Screenshots for Upcoming Nike+ App for iPhone and iPod Touch? [Fake?]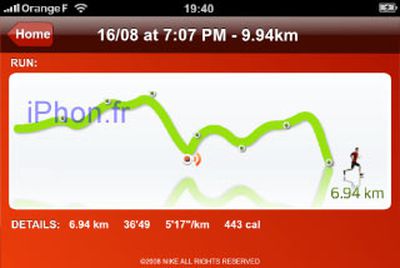 iPhon.fr posts
(
via Gizmodo
) screenshots of what claim to be the upcoming Nike+ running application for iPhone.
Nike+
is a running accessory for the iPod Nano that allows you to track your running.
With a sensor in your shoe and a receiver on your iPod nano, your run takes on a whole new dimension. See the minutes tick by. Watch the miles unfold. Hear real-time feedback. All to your favorite music including the one song that always gets you through the home stretch.
A new version for the iPhone and iPod touch had been previously reported but no announcements have been made since. The iPhone's always-on internet connection is expected to allow you to update your training log on the fly. The screenshots also reveal that mapping is included.
A few other running apps such as RunKeeper have been featured on our iPhone Blog (rss) which is tracking some of the latest iPhone app developments.

Nike+ has generated a significant following with a group of our forum members
organizing MacRumors Nike+ challenges
.
Update
: AppleInsider
believes
these to be fake.