iPhone Sensors and iChat VOIP Integration?
A recently published patent application discovered by MacRumors reveals that Apple has been researching more advanced uses of the built in sensors on the iPhone to predict what the user wants to do. The patent application describes various scenarios in which a mobile phone could automatically change its configuration based on built-in sensors.
Apple describes the use of proximity sensors, ambient light detectors, temperature sensors and accelerometers to help determine the current state of the device. Apple has already incorporated basic state detection into the iPhone. When a user holds the current iPhone to their ear, the proximity sensor disables the touch screen to prevent unintentional key presses.
Combined with similar sensors in Bluetooth wireless headsets, Apple proposes some additional possibilities:
- Accelerometer to determine if device is being picked up
- Temperature, ambient light, and proximity sensors to determine if device in a pocket
- Proximity to see if the phone is held up to your ear or Bluetooth headset is being worn
- Audio detection to see if you start talking into Bluetooth headset vs phone
Based on a combination of these situations, the iPhone could change configuration. Examples given include: Turning vibrating ring on when placed in your pocket. Turning off speakerphone when holding the phone to your ear. Routing the call correctly to your wireless headset or your phone depending on which one you are planing on using at that time (based on speaking into, wearing or picking up the appropriate device).
One final intriguing possibility also described is using the docking/undocking of the iPhone to trigger certain events.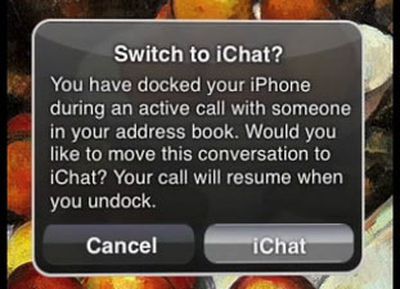 Mock design by ACU
Specifically, Apple describes passing off voice over IP (VOIP) calls from the computer to the phone and back again. With the phone docked, the user could answer the phone using their computer's speaker and microphone, and then automatically pass this call over to the phone when it is removed from the dock. This passing-off of phone calls between the iPhone and iChat was previously depicted in a
concept iPhone video (at 14m 15s)
by Abilene Christian University.