iPhone 3G Launch Day, Meetups and Activation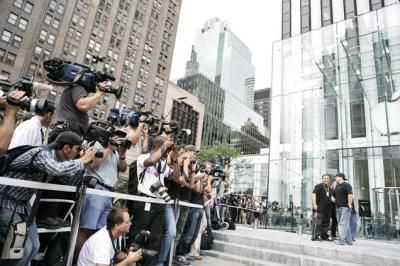 5th Avenue, NYC on original iPhone Launch day
The iPhone 3G will launch on July 11th, and we've consolidated a few tidbits about launch day. In the meanwhile, readers are organizing regional meetups for launch day.
- iPhone will launch in 20 countries on July 11th: Australia, Austria, Canada, Denmark, Finland, Germany, Hong Kong, Ireland, Italy, Japan, Mexico, Netherlands, New Zealand, Norway, Portugal, Spain, Sweden, Switzerland, UK and the US. (France and Belgium launches have been delayed)
- In the U.S., the iPhone 3G will be sold at Apple Retail or AT&T stores.
- iPhone 3G sales time is rumored to be 6PM on Friday, July 11th
- If all countries launch the new iPhone at the same local time (6pm), then New Zealand will be the first country where customers will have 3G iPhones in hand. This corresponds to 2am Eastern time on July 11th.
- Both Gizmodo and Engadget have posted FAQs which address the basic questions about the iPhone 3G.
- Reports of required in-store activation in the U.S. remain, but one unconfirmed tidbit we've heard is that customers with existing iPhones will be shunted to a separate line and will simply need provide the new IMEI number (printed on the outside of the box) from their iPhone 3G. Activation will reportedly then be completed at home after switching your sim card to the new phone and plugging into iTunes. If true, this would speed up sales for those upgrading their existing phones and also leave the iPhone 3G's packaging intact (to the relief of many).
We expect more confirmed details to emerge in the weeks leading up to the launch.