Australian Resellers Receive Mysterious Boxes, Not to Open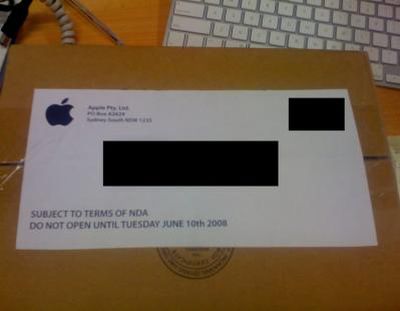 Image from MacTalk.com.au
MacTalk.com.au posts
a photo of a box that was reportedly sent to Australian resellers yesterday. The boxes are sealed with a warning:
SUBJECT TO TERMS OF NDA
DO NOT OPEN UNTIL TUESDAY JUNE 10TH, 2008
June 10th (in Australia) is the day of the Worldwide Developers Conference keynote speech where Steve Jobs is expected to announce the 3G capable iPhone. MacTalk speculates that the box may actually contain a demo model of the 3G iPhone.
Our source believes that the iPhone contained within is for promotional purposes, ie. after it's official unveiling at WWDC next week, the iPhone will go on display with a sign saying 'look how cool I am - you can buy me on this date'.
Vodafone and SingTel both announced that they would be bringing the iPhone to Australia later this year.