Intelliborn has released a beta version of their Intelliscreen application for the iPhone. At present, you must have a Jailbroken iPhone to install this software.
Intelliscreen replaces your "Slide to Unlock" screen with a customizable screen that shows you information from Calendar, Email, Text Messages, News, Sports, and Weather.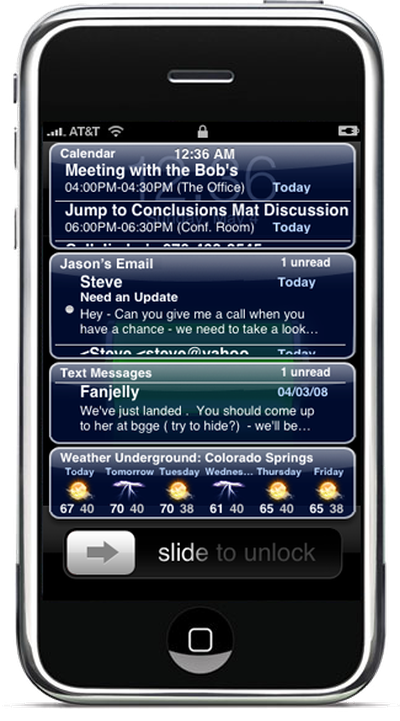 View Calendar, Email, Text Messages, News, Sports, and Weather from your iPhone "Slide To Unlock" screen

Smooth scrolling across each item to quickly glimpse at your data

Auto-Checks Email when you view the unlock screen - no need to "Refresh" from Mail.app or wait 15 minutes

Go directly to the application of your choice with a "Swipe"

Precise International Weather (by Zip) provided by Weather Underground.com

News Feeds include Yahoo!, CNN, Fox News, and Reuters (more coming soon!)

ESPN Sports Feeds include MLB, NFL, NBA, NHL, NCAA Men's Football and NCAA Women's Basketball

Customizing your IntelliScreen is easy! Choose which content you want to view and where

Mail and Text Messages can be shown only if new items are available
As Beta software, you should proceed with caution. Installation instructions are provided in this thread.