1066MHz Front Side iMacs Benchmarked
Primatelabs.ca published Geekbench scores for the iMacs that were released just this week.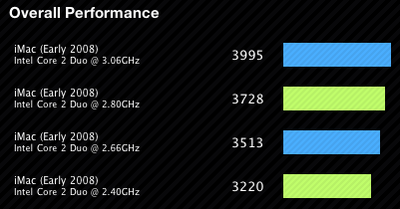 These overall scores can be compared to this comprehensive table of results from a wide variety of Mac configurations.
The new iMacs with a faster bus may have a slight edge over the previous generation iMac. When comparing the 2.80GHz (1066MHz front-side) iMac to the 2.80GHz (800MHz front-side) iMac, the overall scores are 3728 and 3674, respectively, with the bulk of the difference in the Memory scores (2877 vs 2530).
Unfortunately, however, as with most benchmarking software, there can be a wide variation in scores even on the same computer that can erase these differences. So any speed increase from the faster buses appear modest.