Linkin Park Plays... No Apple Event in February?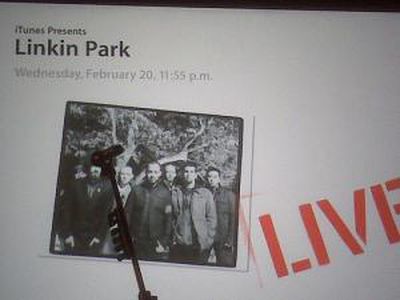 Photo from TheDailySwarm.com
Linkin Park played
at the Apple Soho store tonight, fulfilling the
rumored
"secret" Apple/Linkin Park show. The six song set was recorded for a future iTunes release.
As we approach the end of February, however, the absence of press invitations to a true Apple event makes the rumored Apple media event increasingly unlikely. Apple typically gives media at least one week warning for events. Indeed, the original rumor was spotty at best -- a non-traditional rumor site with "unconfirmed" information.
Regardless, Apple has been on a roll with weekly Tuesday announcements since Macworld. Apple's self-imposed February 2008 iPhone Software Development Kit (SDK) deadline is rapidly approaching, so we should expect a release or, at the least, an announcement of delay in the next week.