Renewed Vision, like BusyMac, is another great example of finding a hidden gem on the Macworld South Hall booth floor.
Renewed Vision is a company that at first had its vision on creating immersive environments for worship at today's churches. According to their website, their first product, ProPresenter was written specially for Passion Conferences in 1999. One of ProPresenter's features is that it allows the personnel controlling the main content display (i.e. worship lyrics, scripture, etc) to not be concerned with any background effects that may be applied. This separation of duties is critical to any live scenario, and Renewed Vision says that is one of the things that has made the product so successful. ProPresenter features.
However, like any successful company, their line now has expanded beyond their initial product and beyond their initial market. ProVideoPlayer is a companion to ProPresenter, and utilizes many Mac technologies to grid-map video content across multiple displays attached to multiple computers. OpenGL and CoreImage effects can be applied on the fly, and content can be dragged and dropped into action. The application is also playlist based, which allows it to run autonomously for extended periods. Support is also included for MIDI controllers. ProVideoPlayer features.
But what makes ProVideoPlayer especially interesting is not only what it can do, but the success it has already had. While it was initially developed for the concert and stage markets, Renewed Vision has sold the product to digital sign companies and department stores, including Calvin Kline, Macys, Mercedes, and even Gulfstream. They even did a custom setup for a restaurant that wanted to create a roof-top feel. Below is the panoramic of that setup, which consisted of 20 projectors connected to Mac Minis (each mac mini displayed 720p content for a total of 25,600 x 720 pixels).

For more on Renewed Vision's solutions, including their custom video synchronization solution ProVideoSync, visit their website.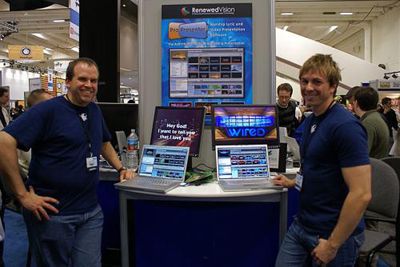 Renewed Vision's Brad Weston, left, and Greg Dolezal, right. Brad also serves as Video Director for North Point Community Church and Video Director for Passion Conferences; Greg also serves as tour manager for artist Chris Tomlin (iTunes link) and co-producer of Passion