Sims Pool for iPod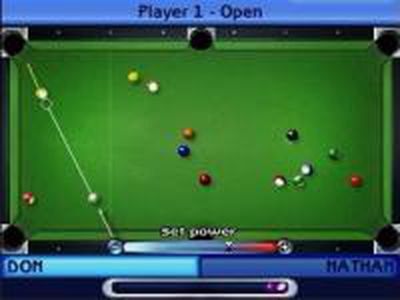 EA's Sims Pool appeared on Apple's iTunes tonight and is currently visible in the U.K. iTunes store.
Run the table -- on your iPod! Create and customize a Sim, select a game mode, and enter the pool hall for exciting action. Play 9-ball, 8-ball or fun trick-shot mode. Hit your Sim's goals by playing the right angles and sinking smoot hshots. With one-thumb ease, use the Click Wheel to set cue ball position, select cue angle, add spin, adjust power, and then shoot. The Sims Pool comes alive with vibrant graphics, realistic physics, multiple game modes, and immersive sound effects.
The $4.99 (3.99) game is available at at this iTunes link, but does not presently appear in the U.S. iTunes store (Update: it is now available in the U.S. Store).
Electronic Arts had previously revealed that they were working on 4 new iPod games this year. So far they have released Sims Bowling and, now, Sims Pool.