Steve Jobs Interviewed at All Things Digital [Video]
Steve Jobs is speaking at the All Things Digital conference with Walt Mossberg. Transcripts are available at the following sites:
All Things Digital
Macworld
Engadget
Gizmodo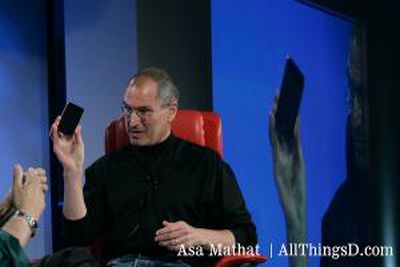 Video
Summary / Highlights
Regarding Apple's name change to Apple, Inc: "We're in two busineses today, we'll be very shortly in three business and a hobby. One is our Mac business, second is our music business, third business is the phone business, handsets. And the hobby is Apple TV. The reason I call it a hobby is a lot of people have tried and failed to make it a business. " - Engadget
"Is that the faint outline of an iPhone I see in Steve Jobs pocket? Well see." - All Things Digital
Gradually Exiting Computer Business? "No. If you come to WWDC we're rolling out our new version of OSX -- massive investments in desktops. You'll love it." - Engadget
"Jobs says Apple is on track to ship iPhone in late June as planned. Walt: Like the last day of June? Jobs: (Laughs) Yeah, probably." - All Things Digital
"Any features on the iphone you haven't announced you'd like to share? Steve: Uh, nope! [Laughter]" - Engadget
"Walt: So how much argument was there about not having a keyboard on the iPhone? Steve: None. None. Walt: So you had no one in Cupertino that thought that was a good idea? Steve: Yeah. [Laughter]." - Engadget
"Walt: Why? [no keyboard]. Steve: A few reasons. Once you actually use this magical display there's no going back. We actually think we have a better keyboard. It takes a few days of getting used to, but I bet you dinner that after a few days of using it you'll be convinced. It takes a week -- you have to learn how to trust it. When you learn how to trust it, you'll fly. And we can use that physical space for other things where you don't need a keyboard -- we can add new applications... it provides incredible flexibility and you don't take up half the space of this thing with a phsyical keyboard." - Engadget
"Walt: could a Mac OS X app run on an iPhone? We don't think that's a good idea. We don't have a mouse, we don't have pull-down menus... we have a very different user interface on the phone." - Engadget
"You can buy movies off iTunes as well. It's pretty good quality -- we arent selling high def... at this point. But I think in the future that might change!" - Engadget
"wouldn't it be great if you could see YouTube on your Apple TV... it's available as a free software upgrade available in a few weeks. Normally I wouldn't announce it early, but hey, it's D." - Engadget
"Walt asks if iPhone will allow over-the-air video downloads. Jobs says no. It doesnt make sense to buy media that way. Delivery over the airwaves is too costly" - All Things Digital
"Question: We'd love to write apps. Will it open up? SJ This is a very important tradeoff between security and openness. We want both. We've got good ideas, and sometime later this year, we can open it up to 3rd party apps, and keep security." - Gizmodo
Steve Jobs is also scheduled to be interviewed with Bill Gates tonight at 7:30 Pacific.