Apple TV Details and Specs
Apple has opened a section on their website dedicated to the new Apple TV and issued a press release today.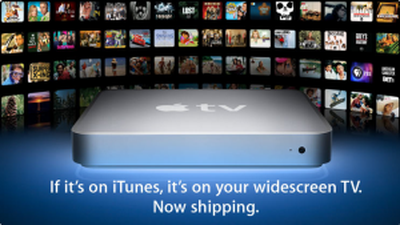 The tech specs page provide some additional details:
Video:
- .264 and protected H.264 (from iTunes Store): Up to 5 Mbps. Maximum resolution: 1280 by 720 pixels at 24 fps, 960 by 540 pixels at 30 fps
- MPEG-4: Up to 3 Mbps. Maximum resolution: 720 by 432 pixels at 30 fps
Photos:
- JPEG, BMP, GIF, TIFF, PNG
Apple also posted a Quicktime VR for those who can't wait for unboxing photos. Meanwhile, Mossberg's review claims that the Apple TV uses a "modified version of the Mac operating system", which was not previously known.