macOS High Sierra
A previous version of the macOS operating system, released Monday, September 25, 2017.
By MacRumors Staff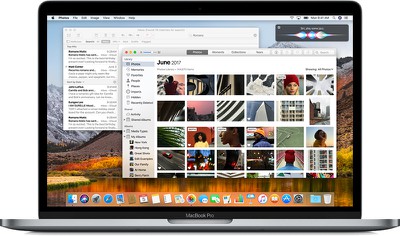 What's New in macOS High Sierra
Apple introduced macOS High Sierra at the 2017 Worldwide Developers Conference in June. macOS High Sierra, as the name suggests, is a follow-up to macOS Sierra and is largely designed to improve on macOS Sierra through major under-the-hood updates and a handful of outward-facing changes.
With macOS High Sierra, Apple says it's focusing on the fundamentals: data, video, and graphics. High Sierra is about deep technologies that provide a platform for future innovation while also introducing new technologies to make the Mac more reliable, capable, and responsive.
A more modern file system, Apple File System (APFS), is the new default in macOS High Sierra. APFS is safe, secure, and optimized for modern storage systems like solid state drives. It introduces features like native encryption, safe document saves, stable snapshots, and crash protection. APFS is ultra responsive and brings major performance improvements for Macs.
High Sierra includes High Efficiency Video Encoding (HEVC, aka H.265), which preserves better detail and color while also introducing much improved compression compared to H.264. HEVC software encoding is available for all Macs in High Sierra, but newer models include HEVC hardware acceleration.
Along with a new Apple File System, macOS High Sierra introduces Metal 2, the next-generation version of Apple's Metal graphics API. Metal offers up to 10x better draw call throughput improvements like driver optimizations, indirect argument buffers, sampler arrays, resource heaps, and more. The Mac's window server uses Metal 2 optimizations to make window animations like Mission Control much smoother.
Metal 2 brings support for machine learning, external GPUs, and VR content creation. Apple is providing an external GPU development kit for developers and it is working with Valve, Unity, and Unreal to bring VR creation tools to Mac. Support for eGPUs was introduced in the 10.13.4 update.
In addition to new technologies, there are improvements to several existing apps. Photos has a new persistent side view to make it easier to find what you're looking for, along with new editing tools for Curves and Selective Color. Facial recognition is improved and syncs across devices, while expanded integration with third-party apps is available. New options for editing Live Photos have been introduced, and Memories have been expanded to encompass more categories.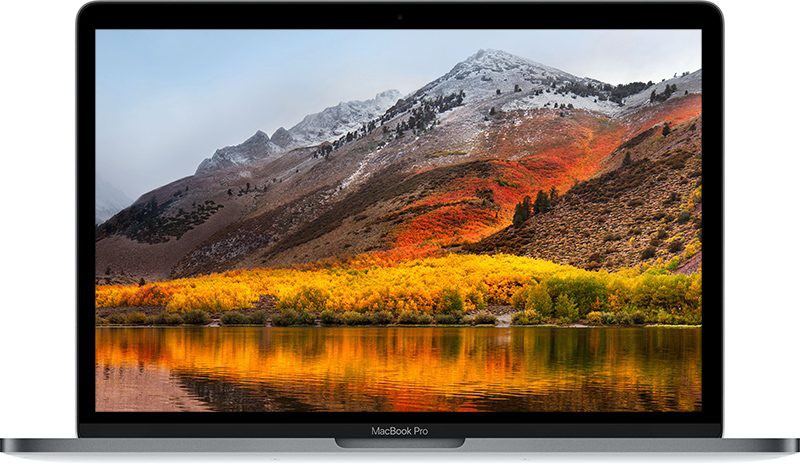 Safari includes a new autoplay blocking feature for videos, along with Intelligent Tracking Prevention to protect your privacy and a new always-on option for Safari Reader. Search in Mail has been improved, and Mail storage has been optimized to take up 35 percent less space. iCloud Drive file sharing and iCloud storage family plans have also been added.
macOS High Sierra was released to the public on Monday, September 25, 2017, and it was followed by macOS Mojave on September 24, 2018.
Current Version - 10.13.6
The current version of macOS High Sierra is 10.13.6, released to the public on July 9. According to Apple's release notes, macOS High Sierra 10.13.6 adds AirPlay 2 multi-room audio support for iTunes and fixes bugs with Photos and Mail.
Apple in July released a supplemental update for macOS High Sierra 10.13.6 to address a bug in the 2018 MacBook Pro models that caused excessive processor throttling.
Apple discovered a missing digital key in firmware that impacted the thermal management system of the MacBook Pro models, driving down clock speeds under heavy thermal loads. Apple fixed the bug in the update, improving performance on all 2018 MacBook Pro models.
App Refinements
Photos
In macOS High Sierra, Photos is the app that's seen the most significant updates, with improvements to facial recognition, editing, Memories, and more.
Photos includes a new persistent, always-on side view with new options to filter by keyword, media type, date, and more, making it simpler to find exactly which photo you're looking for. There's also an expanded import view that shows all past imports in chronological order, and a new selection counter keeps track of everything that's been selected to make it easier to organize your albums.

Facial recognition has improved with Apple using advanced convolutional neural networks to allow it to better recognize faces. The People album is now synchronized across all devices running macOS High Sierra or iOS 11, and there are larger thumbnails and more accurate face groupings.
When it comes to photo editing, there are two new pro-level tools, including Curves for fine tuning color and contrast, and Selective Color, which is able to make any color more saturated. Apple has also added a range of new "professionally inspired" filters to work with.

In macOS High Sierra, there are expanded integrations with photo editing apps like Photoshop and Pixelmator. When you open a picture in a third-party photo editing app directly from Photos, all edits made are automatically be saved in the Photos library.
Apple is also allowing new integrations with third-party services like Shutterfly that let you do everything from order prints to create web pages, all right in the Photos app. These new project extensions can be downloaded from the Mac App Store.
For the Memories section of Photos, which makes quick photo slideshows based around events, there are more than a dozen new categories supported, like pets, babies, outdoor activities, performances, weddings, birthdays, and sporting events.

In iOS 11, there are new options for editing Live Photos, and these same tools have come to macOS High Sierra. You can now trim, mute, and select a key photo for a Live Photo, and there are options to add a loop effect (the Live Photo loops like a GIF), a bounce effect (a backwards loop), or a long exposure effect, which introduces a DSLR-like blur.
Safari
According to Apple, Safari is the world's fastest desktop browser in macOS High Sierra, significantly outperforming Chrome and other browsers in a range of benchmark tests. Along with speed improvements, macOS High Sierra also brings several significant changes that much improve the browsing experience.
A new autoplay blocking feature is able to detect irritating websites that play video without your permission, putting a stop to it. Videos won't run on a website until you press the play button.

macOS High Sierra's Safari 11 also includes Intelligent Tracking Prevention, which uses machine learning to identify trackers on webpages and prevent them from gathering data about you. If you've ever browsed for something on Amazon and then had that same item pop up on other webpages, then you've experienced web tracking. In High Sierra, Apple blocks that kind of tracking, protecting your privacy.

Intelligent Tracking Prevention is not related to or designed to block ads, but rather prevent companies from gathering data about you and prevent ads from being specifically targeted towards you.
Safari has new website settings so you can customize your internet browsing experience site by site. There are options for page zoom level, location services, notifications, and content blockers. Apple says with the new settings, each website appears how you like it.
There's one other new setting, which allows you to automatically use Safari Reader for every web article that supports it, without needing to click a button. With Safari Reader, you can view websites without ads, navigation, and other distractions, making it ideal for long-form web reading.
Mail
Search in Mail has been improved in macOS High Sierra. When you search for an email, the messages most relevant to the search are at the top of the list. The search algorithm takes into account mail you've read, senders you reply to, your VIP list, and more to decide which emails should come up first when searching.
Mail's compose window can be used in full screen Split View mode in macOS High Sierra, and with improvements to storage, your mail messages take up 35 percent less storage space.
Siri
In macOS High Sierra, Siri is much more musically inclined in both iOS 11 and macOS High Sierra. Siri learns your music tastes and makes music recommendations based on your past listening preferences. Siri is also now something of a music expert and can answer questions about songs, albums, and artists, like "Who is the drummer of this song?" or "What band is this?" when something is playing.
Siri also supports cross-device syncing so the personal assistant can learn more about you on all of your devices.
Notes
There's an option to pin your most used notes to the top of the Notes app for quick access to lists and other frequently used notes. Tables can also be added to individual notes for better organization.

Spotlight
You can now search for a flight number in Spotlight to bring up arrival and departure times, gate information, terminal maps, delay notices, and more. Spotlight also surfaces multiple Wikipedia articles when there's more than one response to something that you search for.
iCloud
iCloud Drive file sharing
Any file in iCloud Drive can now be shared with another person through a new link feature. The link option gives direct access to specific files and folders while keeping the rest of your iCloud Drive private.

iCloud Storage Family Plans
Families with Family Sharing enabled can now share iCloud storage space. The 200GB ($2.99 per month) or 2TB plans ($9.99 per month) can be shared between multiple family members, making it more affordable than some single-user plans depending on the amount of storage needed.
iCloud Messages
Apple is planning to introduce iCloud Messages for iOS 11 and macOS High Sierra, but the feature, which was present in early betas, has been removed for the time being. Apple plans to introduce it later in the year in an upcoming version of iOS and macOS, and it is currently available in iOS 11.4 and macOS High Sierra 10.13.5. iCloud Messages allow iMessages to be stored in iCloud, saving valuable on-device storage space and allowing messages to be synced across all devices (even new ones).
FaceTime
In both macOS High Sierra and iOS 11, there's a new option that allows you to take a Live Photo while FaceTiming someone, using the camera button at the bottom of the chat screen. When you take a FaceTime Live Photo, both participants receive a notification that a photo was taken and it's added to your Photo Library.
Apple File System
With macOS Sierra Apple announced plans to transition to a new Apple File System (APFS), and in macOS High Sierra, that transition is being completed. When installing macOS High Sierra, the new, much more modern file system is implemented as the new default, replacing the old HFS+ file system.
APFS is a 64-bit file system that's not only optimized for modern storage like solid state drives, but it's also easily adaptable to future storage technologies. APFS is safe and secure, offering crash protection, safe document saves, stable snapshots, simplified backups, and native encryption.

It's much more responsive than HFS+, with instant file and directory cloning, fast directory sizing, high performance parallelized metadata operations, and sparse file writes.
What the average macOS High Sierra user needs to know about APFS is that it's a significant improvement over HFS+ that's going to introduce better performance in the form of simple encryption, faster file transfers, and more.
HEVC
Both macOS High Sierra and iOS 11 support High Efficiency Video Encoding, aka HEVC or H.265. HEVC provides much better video quality while also introducing 40 percent better compression than H.264, which saves valuable storage space on your Mac.
Apple built software encoder support for HEVC in macOS High Sierra for all Macs and hardware acceleration of HEVC for the newest Macs, which include the Late 2015 27-inch iMac and later, the Early 2016 MacBook and later, and the 2016 MacBook Pro and later.
Metal 2
One of the major under-the-hood improvements coming to macOS High Sierra is Metal 2, the next-generation version of Metal. According to Apple, Metal 2 is "tremendously fast" with 10x better draw call throughput with the use of driver optimizations, indirect argument buffers, SIMD group data exchange, uniform variables, sampler arrays, and resource heaps.
To make it easier for developers to support Metal 2, Apple is introducing a faster frame debugger, improved debugging search, and GPU counters for better optimizing apps.
For end users, Metal 2 brings apps and games with impressive new graphics, but Metal 2 is also built into the base operating system in High Sierra. Apple is using Metal 2 for its Mac window server, so some of the most challenging window animations in macOS High Sierra, like Mission Control, are much smoother.
Metal 2 includes support for machine learning for accelerating deep learning algorithms, introducing developer tools like Metal Performance Shaders, recurrent neural network kernels, binary convolution, dilated convolution, L-2 Norm Pooling, and more.
Metal for External GPUs
In macOS High Sierra, Apple introduced support for external GPUs for the first time, made possible through Metal 2. Developers were able to begin optimizing their apps for eGPUs when High Sierra was released, and in the 10.13.4 update, released in March, official eGPU support was implemented. Many high-end AMD graphics cards are supported, and Apple offers a list of recommended products in a support document.
To help developers optimize their apps for external GPUs, Apple is offering a developer kit with a Thunderbolt 3 enclosure, an AMD Radeon RX 580 graphics card, and a USB-C hub.
Metal for VR
Along with external GPUs, Apple is optimizing Metal 2 for VR content creation in macOS High Sierra.

Apple worked with Valve to bring the Steam VR SDK to the Mac, and with Unity and Unreal to bring their VR content creation engines to Mac.
macOS High Sierra Guides and Tutorials
Compatibility
macOS High Sierra is compatible with all Macs that can run macOS Sierra.
2009 and Later
iMac (Late 2009)
MacBook (Late 2009)
2010 and Later
MacBook Air (Late 2010)
MacBook Pro (Mid 2010)
Mac mini (Mid 2010)
Mac Pro (Mid 2010)