Ultimate Ears is known for its line of rugged, waterproof speakers that come in bright colors and offer high-quality sound at prices that aren't exorbitant.
In October, Ultimate Ears expanded its product lineup with two new flagship devices, the Blast and the Megablast, successors to the Boom 2 and the Megaboom, with revamped designs and, for the first time, Wi-Fi support with Amazon Alexa integration.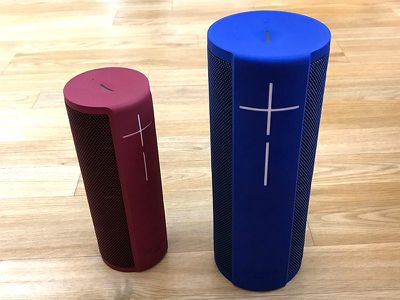 I tested the new Ultimate Ears speakers, and I liked the addition of Alexa integration, especially in a wire-free device. There were, however, some limitations and caveats that may not make this the best speaker for everyone.

Design
Blast and Megablast don't look too different from previous-generation Ultimate Ears speakers, but they do sport a new, more modern design with a flatter top and less rounded edges for a decidedly cleaner and sleeker appearance.
They use the same cylindrical design as past speakers, offering 360 degree sound. The top and the bottom of the Blast and Megablast feature a soft rubber material with bluetooth/power/Alexa buttons and access to a charging port, while most of the rest of the speaker is made from a matching mesh.


Both speakers continue to feature prominent "+" and "-" buttons that are used for controlling volume. Some people don't like these buttons because of the resemblance to a cross, but I've always been a fan of the bold look and easy-access volume controls. The speakers each come in a range of colors, including Blue Steel, Merlot, Blizzard, and Graphite. The Megablast I have on hand is Blue Steel, while the Blast is Merlot, and both colors are subdued and even elegant, able to match well with any decor.




Blast is about 7.4 inches tall and as thick as a soda can, while Megablast is about 9.3 inches tall and a good deal thicker, closer in size to a coffee can than a soda can. Blast fits well in a bag for travel, making it ideal for the beach or the pool, while Megablast is less portable. There's nothing stopping you from lugging the Megablast around, though.


All of Ultimate Ears' speakers are IP67 water resistant, which means they can be immersed in liquid up to 1m deep for up to 30 minutes. I took both speakers in the shower several times with me over the course of the testing period, and had no problems. Ports are well protected with a rubber covering at the bottom, but it's worth noting that this rubber cover makes charging a chore. There are no other points of ingress for water to get into.


Charging ports are located on the bottom of the speakers, so the rubber covering needs to be pulled back while the micro-USB charging cord is inserted, and it can take a few seconds to get it oriented correctly. This isn't new to the Blast and Megablast, though, and it's a small price to pay for water resistance. Bottom charging ports means these speakers aren't going to sit upright when charging, so it isn't the most convenient port location.


Volume is controlled through the aforementioned large volume buttons, and the speakers can be turned on using a power button at the top. There are no physical controls for pausing music or changing songs -- these things must be done using Alexa integration or your connected iOS device. No on-device control is something of a step back, because both the Boom 2 and the Megaboom have tap gestures for skipping and pausing songs, and I think that's something a lot of people are going to miss.


Some may also miss the 3.5mm aux-in port that was present in the Megaboom. It's been removed in the Megablast.
The Blast is meant to last for 12 hours on a single charge, while the Megablast is supposed to last for 18 hours. I got about that amount of battery life from the Blast, but the Megablast I had on hand seems to drain a good deal faster than that, and I'm not sure why.

Sound Quality
I've used several Ultimate Ears speakers over the years, and I'm a fan of the sound quality for the price. Evaluating sound is always tricky because there's so much preference involved, but objectively, these speakers sound crisp and clean.
For my tastes, and with the Megablast especially, there's too much bass and I do feel that with some songs, the bass can overwhelm some of the other notes.


These speakers are loud, and the sound absolutely fills a room. They're so loud, in fact, that the maximum setting is too high for my apartment. The Blast has a maximum sound level of 90 dBC with a frequency range of 90Hz to 20kHz, and it comes equipped with two 35mm active drivers and two 81mm and 39mm passive radiators.
In comparison, the Megablast has a maximum sound level of 93 dBC with a frequency range of 60Hz to 20kHz. Inside, there are two 25mm tweeters, two 55m active drivers, and two 85mm and 50mm passive radiators. In practice, this means the Megablast is noticeably louder and clearer than the Blast. That's not to say the Blast is lacking - it still offers great sound, but it's not quite on the level of the Megablast.


To power the Alexa features, the Blast and Megablast have several built-in microphones to enable far-field voice recognition. I had a hard time getting the speakers to listen to me when music was playing except for when I was fairly close to them. Without music playing, they had an easier time understanding me.

Features
Alexa Integration
Blast and Megablast support Wi-Fi and Bluetooth, and with a Wi-Fi connection, the two speakers work with Amazon Alexa, a first for an Ultimate Ears product. Alexa integration is somewhat limited on third-party devices, though, so it's worth noting that these can also be used as standard Bluetooth speakers.
With Amazon Alexa integration, when connected to Wi-Fi, you can use Alexa to play music and answer simple queries, much like using Alexa on an Amazon Echo device. Alexa works with Amazon Prime Music, Amazon Music Unlimited, iHeartRadio, and TuneIn, and that's it. Ultimate Ears says Pandora and Deezer are coming soon, though, with more to follow in the future.


There is no support for Spotify or Apple Music, so if you subscribe to one of these music services, you're going to need to use Bluetooth. I am an Apple Music subscriber, which only works over Bluetooth, so I signed up for a few months of Amazon Music Unlimited for testing purposes. Ultimate Ears includes a code for a free three month trial.
Alexa integration in Blast and Megablast is useful because you can just ask Alexa to play a particular song, music genre, album, or playlist, but unless you're already a subscriber to an Amazon music service or willing to switch, it's of limited utility as a way to play and control music.
I'm in the Apple ecosystem and use HomeKit, so I don't get the full range of use out of Alexa, but the speakers can be used to control smart home products, offer weather and traffic information, set alarms, create to-do lists, offer up conversions, find recipes, get news updates, and more.


You don't need to connect to power to use Alexa with Blast or Megablast, but you do need a Wi-Fi connection. Because power isn't necessary, the Blast and the Megablast will go to sleep after a short period of time, so the Alexa feature is not always listening. You'll often need to push the power button to wake the speaker back up when you want to use Alexa if it isn't connected to power.
You can, however, enable an always-on Alexa mode through a standalone charging dock that charges the new speakers inductively.
Alexa features are limited to countries where Alexa is available, aka the United States, the UK, and Germany. An Amazon account is also required.

Bluetooth
When not connected to Wi-Fi, the Blast and Megablast function as standard Bluetooth speakers, and this is the connection method you're going to need to use to play music from Spotify, Apple Music, or other sources. Connecting via Bluetooth is done in the Settings app, like any other Bluetooth device.
You can listen to music over Bluetooth and use Alexa, but expect some delays. When I listen on Bluetooth and then ask Alexa a question, there's a long pause before my music resumes.

App
With previous Ultimate Ears speakers, the Ultimate Ears app enabled a lot of neat features like PartyUp/DoubleUp, which let multiple Ultimate Ears speakers be linked together. You can't link Blast or Megablast with other Ultimate Ears speakers or even with each other. These are standalone speakers that can only be controlled separately, with no option to sync them.


There was also a Block Party feature for letting your friends queue up music with you, and that's also unavailable in the Blast and Megablast. This is less of a loss when used with Alexa, though, because you can request songs vocally with a compatible music service.
A speakerphone feature was available with the Megaboom, allowing it to answer calls from a connected smartphone. That's another feature that's not available with Blast and Megablast.

Charging Dock
Ultimate Ears is offering a standalone "Power Up" charging dock that works with the Blast and the Megablast, and while it's not required for charging, if you want always-on Alexa functionality that's not completely inconvenient, you're going to need the dock.


The dock is basically a simple white puck-style device that charges a speaker inductively. It's the best way to merge always-on Alexa functionality with the portability of a battery-powered speaker, but it does cost an extra $40.


This is an almost necessary accessory for customers who want to get the most out of Alexa, so it's disappointing that it wasn't included in the price of the Blast and the Megablast, neither of which are cheap.

Bottom Line
I like the addition of Alexa functionality to the Ultimate Ears lineup, but I do wish Ultimate Ears hadn't sacrificed so many features to add it. People accustomed to Ultimate Ears products are going to miss the auxiliary input, the ability to pair two or more speakers together, and the other fun features that used to be available.
Hopefully some of these missing functions can be re-added with software updates over time, but whether or not that will happen remains to be seen.
For someone like me who primarily uses Spotify, Apple Music, or another music service that's not supported by Alexa, you're not going to be able to get a lot out of this speaker's Alexa integration unless you simply want it for non-musical functionality. Being able to request songs via voice is most of the appeal of these speakers, and not being able to use that feature puts Blast and Megablast on par with any other Bluetooth speaker.


I have Apple Music and HomeKit, as do many of us who have iOS devices, so while Alexa is fun to play with, it's not something that I can up and use without tweaks to the products in my home. With HomeKit and Apple Music, I'm instead eagerly awaiting HomePod.
If you're going to be using Blast or Megablast like a Bluetooth speaker, it's probably a better choice not to shell out the extra cash and to get something like the Boom 2 or the Megaboom instead, which are as low as $124 and $188, respectively, on Amazon.
If you do have a supported music service and want to get into the Alexa ecosystem, this speaker is a great choice. You get all of the benefits of Alexa in a portable package that can go absolutely anywhere. I do recommend budgeting for the charging dock if you're picking up a Blast or Megablast to use with Alexa, though, as it's a must-have for always-on functionality at home.

How to Buy
The Blast is priced at $229.99, while the Megablast is priced at $299.99. Both can be purchased from the Ultimate Ears website, or from Amazon.com (Blast/Megablast).
Note: Ultimate Ears provided MacRumors with a Blast and a Megablast for the purpose of this review. No other compensation was received.