Late last year, Mophie unveiled its latest lineup of Powerstation external batteries, offering a number of slim new options for recharging mobile devices on the go. The lineup includes five models: 1X (2,000 mAh), 2X (4,000 mAh), 3X (6,000 mAh), 5X (10,000 mAh), and 8X (15,000 mAh), with prices ranging from $40 to $150. Mophie's Powerstation batteries are available from a number of outlets, including Apple's own online and retail stores for most of the lineup.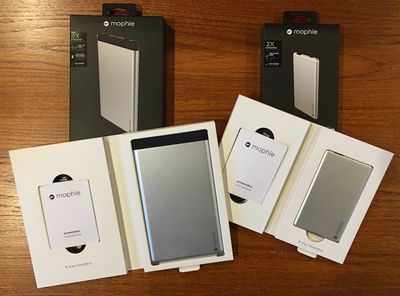 Mophie sent me both the 2X and 8X varieties for testing purposes, and I've been using them as my primary external batteries for the past several months.

Design
Mophie's batteries certainly aren't cheap, but they do come in appealing designs using high-quality materials, so a bit of a price premium is to be expected. The casings of the latest Powerstation models are made entirely or almost entirely of aluminum with a matte finish, nicely complementing Apple's most popular silver color. They feature a slim design that makes them easy to slip into a purse, bag, or even a pocket for the smaller versions, along with a substantial, high-quality feel. A button and four LEDs along the side of each battery makes it easy to quickly check approximate charge level. As is typical of Mophie products, the Powerstation design and feel are terrific.

Features
Rather than including a built-in cable as Mophie does on some of its other external batteries such as the Powerstation Plus line, the Powerstation simply includes a standard USB port to allow users to connect whatever type of charging cables they need for their gadgets. A micro-USB port is also included for recharging the battery, and a separate USB to micro-USB cable is included with the battery. The need for separate cables provides good flexibility for charging various kinds of device, but it can complicate your packing a bit and makes for one more thing to forget.


As you move up the line of Powerstation models, Mophie provides more connectivity options to increase the usefulness of the batteries. The 1X includes a single USB port that can charge at 1.8 amps, offering basic recharging capabilities. Stepping up to the 2X not only doubles the battery capacity to 4000 mAh, but boosts the output of the USB port to 2.4 amps for faster charging and adds pass-through charging support that allows the phone or tablet to charge first, followed by the battery. The 3X adds a second USB port to allow users to charge two devices at once at 2.4 amps while also providing 6000 mAh of power.
Things get a bit more interesting once you move to the top-of-the-line 5X (10,000 mAh) and 8X (15,000 mAh) levels. The two models carry the same features (except the 8X is obviously larger and heavier with the additional capacity), including a pair of USB ports with pass-through charging capability. Both models also support Bluetooth Low Energy connectivity, allowing you to wirelessly pair the battery with your phone. On the phone, a Mophie Power app lets you monitor charge level of both your phone and the battery, as well as set up notifications. The 5X and 8X batteries also support 15-watt fast charging for both input and output, but Apple's devices are not compatible with the fast charging standards and so are unable to take advantage of this feature.

Performance
The latest Powerstations look great, but how do they perform? With 2.4-amp output on all but the lowest end model, the Powerstation should recharge devices nearly as quickly as charging from a 12-watt wall adapter, and while it comes close to those speeds with many devices, I found this wasn't always the case.
The difference in charging rate was fairly small on devices such as my iPhone 6s Plus and iPad Air 2, taking roughly 10–20 percent longer to charge from a Powerstation than from the wall. It's a small but not insignificant difference in charging times.


With my iPad Pro, however, it took twice as long to charge from the Powerstation for some reason. The iPad Pro already takes close to five hours to charge from zero to 100 percent from a 12-watt wall charger running at 2.4 amps, but when charging from the Powerstation 8X, it takes approximately ten hours to deliver a full charge. Granted, the iPad Pro is an extreme case given its massive battery, but even for regular devices, it's going to take at least a little longer than you expect. As a result, I've found myself using the batteries more for keeping devices topped off in shorter spurts than for letting my devices run most of the way down before connecting them to the battery.
These figures are for charging the device directly from battery, and it's worth noting that charging is even a bit slower in pass-through mode, with the battery pushing only about 1 amp of current to the device. You do of course gain the benefit of charging both the device and the battery in this mode if you can let them sit for a long period of time such as overnight.
As with any power bank, charging speed of the battery itself can be an issue as you move to higher capacities. With its massive 15,000 mAh battery, the Powerstation 8X requires on the order of eight hours to fully recharge from a 12-watt wall adapter. That's a long time, but on the plus side you're carrying enough juice to charge both an iPad Pro and an iPhone from 0 to 100 percent while you're on the go.

App Integration
The Mophie Power app is a nice companion to the high-end 5X and 8X batteries, offering handy reports on charge status of the battery and your device, as well as data on charging rates and time until fully charged. Default alerts include 100% recharged and a 20% low battery warning for both the battery itself and the paired device. Custom alerts for any battery level between 10 and 90 percent in increments of 10 percent can also be set.


The app also gives several suggestions for increasing battery life, including turning on auto-brightness, automatic screen lock, and low power mode, and avoiding extreme temperatures and excessive camera flash usage.


Overall, the app isn't super fancy, but it's nice information to have handy. There is, however, one rather inexplicable omission in that the Mophie Power app is not compatible with iPads. The App Store limits direct installation to iPhones, and while you can install the app on an iPad in a roundabout way by downloading it through your purchase history, you're left with a blown-up iPhone interface and the app refuses to pair with the battery.

Bottom Line
Mophie is a well-known brand with a long history of making Apple accessories, and Apple trusts the company enough to carry its products in Apple's online and retail stores, something that goes a long way toward getting Mophie's products in front of consumers. And as usual, the design of the latest Powerstation lineup is great, with a solid aluminum body that's slim enough to easily fit the smaller ones in a pocket and the larger ones in a purse or skinny computer bag. That said, the Powerstation lineup is quite expensive compared to some other options on the market, so you may want to take that into consideration when making your purchasing decision.
Pros
Sturdy, good-looking design that matches Apple's aesthetic
Range of capacities to fit different needs and budgets
App integration provides feedback on charge levels
Cons
Expensive compared to some other popular brands
Charging speeds don't seem to always reach 2.4 amps, particularly on iPad Pro
App isn't compatible with iPads
How to Buy
The full lineup of Powerstation batteries is available on Mophie's website and Amazon, while Apple carries the 2X ($60), 3X ($80), 5X ($130), and 8X ($150) models in its online and retail stores.
Note: Mophie provided Powerstation 8X and 2X batteries to MacRumors free of charge for the purposes of this review. No other compensation was received.