The embargo has lifted on reviews of Apple's new 24-inch iMac, powered by the same M1 chip that debuted in the 13-inch MacBook Pro, MacBook Air, and Mac mini last year. We've gathered up impressions of the colorful new computer below.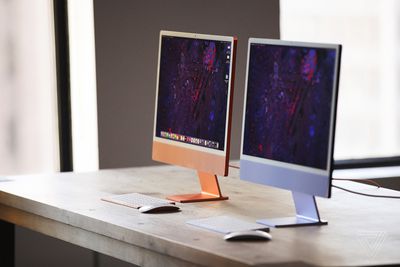 The most striking aspect of the new iMac is its long-awaited redesign, with an ultra-thin 11.5mm chassis that comes in up to seven vibrant colors, including green, yellow, orange, pink, purple, blue, and silver. The Verge's Monica Chin said the new colors have generated lots of interest on TikTok and are "clearly a hit with certain crowds":
I'm not quite convinced that the jazzier models will fit in outside of especially stylish homes and offices. But I will say: I've never seen so many of my friends, or so many people on TikTok, as excited about a tech product as they seem to be about the colored iMacs. The hues are a nice change, aren't obnoxious, and are clearly a hit with certain crowds.
As seen in benchmark results last week, the new iMac benefits from the impressive performance of the M1 chip, with Chin noting that there has never been a better iMac to buy for simple everyday tasks:
This iMac model achieved a higher score on the Geekbench 5 single-core benchmark than any Mac we've ever seen before — even the iMac Pro. That means if you're looking for a device for simpler everyday tasks that don't scale to every available CPU core (and that largely seems to be the demographic that Apple is trying to sell this machine to), there has literally never been a better iMac for you to buy.
Benchmark results revealed the new iMac is up to 56% faster than the previous high-end 21.5-inch iMac with an Intel Core i7 processor.
The Verge's video review:
Writing for Six Colors
, Jason Snell remarked on the controversial bezels around the display:
The bezels around the display itself are a neutral gray. It's effectively a gradient, with your peripheral vision noticing the bright color, but that accent fading away until you're left with whatever is on the display itself. It works really well, though I imagine that if you're someone who prefers using Dark Mode in brightly lit rooms, it will be a pretty dramatic contrast. (I'm a Light Mode person myself, and I found the overall effect quite harmonious. But then, my office wall is orange.)
The Guardian's Samuel Gibbs said the new iMac is the best 24-inch all-in-one-computer available:
There's no doubt this is the best 24in all-in-one computer available and one of the very best Macs you can buy. But it is not perfect. The lack of USB-A ports and an SD card slot will mean users require adapters for older gear, but it is the fact that Apple still hasn't made the iMac height adjustable that is the most irritating. You can buy the 24in iMac with a universal VESA mount so you can add your own adjustable stand. iMacs balanced on third-party height risers, books or reams of paper will remain a common sight for years to come.
The Wall Street Journal's Joanna Stern:
We've rounded up links to more iMac reviews below:
We also have a roundup of iMac unboxing videos, including new color-matching Apple logo stickers included in the box.
A look at the color-matching Apple logo sticker from Dave Lee's review video: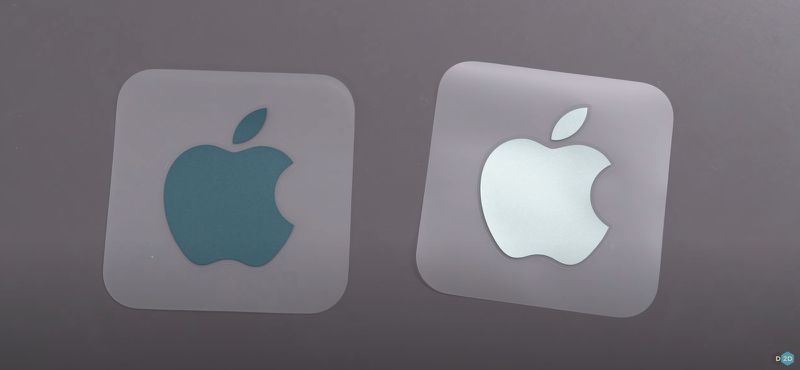 The new iMac became available to pre-order starting April 30 and will begin arriving to customers on May 21. The new iMac will also be on display in all seven colors at most Apple Store locations starting May 21.