Accessory maker Danny P. seeks to give iPhone 6 Plus and 6s Plus users some dual usability with its new Leather Wallet with iPhone 6 Plus Case, which includes seven credit/debit card slots, a rear folder for cash, and a sleeve for the larger-sized iPhone. The case, which is available through Apple's own online store, is sized at 6.81 inches tall with a width of about 4.13 inches and is aimed to remain slim and unobtrusive even when stocked with an iPhone and various credit cards.
After a week of use, I've found that Danny P.'s Leather Wallet Case adheres to the company's bullet point list of promises describing the case on its website, most notably in the satisfying quality of materials used to craft the iPhone accessory. Anyone with the pocket or bag real estate to house its vertically spacious design will easily find a lot to love in the case, especially those seeking an all-in-one housing solution for both monetary and iPhone protection needs.

Design
The left portion of the bifold holding the seven credit card slots on the inside of the Leather Wallet Case has an opening on the upper and right sides to hold a few dollars in cash, or any other slim pieces of paper or notes. The slot that actually holds the iPhone is a full sleeve, preventing access to the smartphone's screen and inputs with the sole exception of the home button and Touch ID (if you slide it in upside down).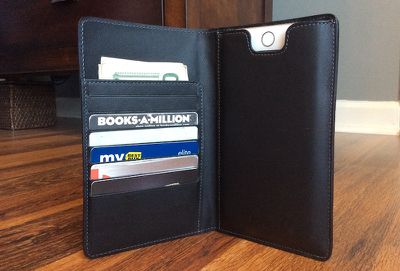 Like most sleeve cases, the inside of Danny P.'s product has a soft suede finish to make it easier to slide the iPhone in and out of the pocket, and prevent it from getting any scratches while housed there. The company's logo is also admirably discreet on both the face of the wallet and at the bottom of the iPhone sleeve, although this is somewhat depending on the finish of the Italian leather used on each version of the case. Danny P. sent me the all-black option, and it's perfect for anyone looking for an inconspicuous accessory.
When fully packed with seven credit, debit, and rewards cards, some cash, and the iPhone, the case's thickness measured just under an inch for me on a day-to-day basis, which I found to be impressively non-bulky given the amount of content I placed inside. Danny P. also encourages the iPhone to be placed upside down as previously mentioned to access both the headphone jack and Touch ID for quick Apple Pay payments.

Size
As someone who uses a traditional bifold wallet, the Leather Wallet Case was a bit daunting initially in comparison to the smaller-sized wallets I'm used to. After using it for a few days, though, it surprised me how easily I became acclimated to the case's size.



Of course, a lot of factors will change how much use I get out of it moving forward. For one, the Leather Wallet Case is mostly marketed to business-type people on-the-go, who have large breast pockets or bags at the ready on a daily basis. I'm not the target market there, but a few of my winter jackets and hoodies have helped the case go largely unnoticed.



Alternatively, trying to fit Danny P.'s case within the confines of jean pockets is more of a hassle. I was able to manage it, but that's not what the enterprise-focused case is meant for, and it's especially not recommended to have the nearly-seven-inch tall case protruding from the back pocket of your pants. I can see its size becoming a problem for me the closer I get to the warmer months, with the fewer jackets and overcoats I need to wear providing room for the case.

Leather Finish
As a company that not only trades in third-party tech products, but traditional clothing accessories as well, the Leather Wallet Case's quality of material was easily my favorite part about using it each day. I'm normally a fan of color (the Brown/Blue version of the same case is definitely my favorite), but even the uniform black of the case sent for review won me over fairly quickly.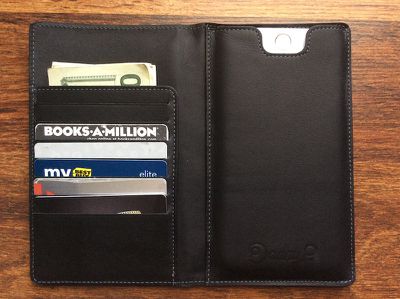 The leather is smooth and satisfying to touch, but tactile and grippy enough to make removing and adding credit cards a cinch. As Danny P. mentions on its FAQ page, the leather is a "living" material that stretches out over time. So while the card slots were a bit tight at first, both the card slots and the iPhone sleeve were much easier to work with after just a week's worth of breaking in. In regards to the space for cards, seven slots might not be enough for some, but it was actually the perfect number for me.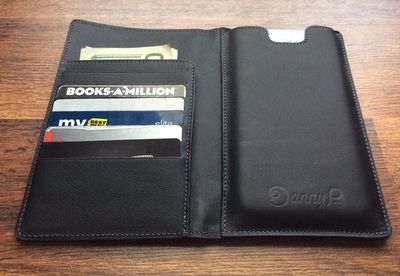 Those card slots feel nicely secure, but the open envelope section for cash wasn't as reliable. A few times when I re-opened the wallet to check my phone or grab some cash, it would spill out onto the iPhone side of the case. Shoving money farther into the corner of the fold helps, but it also makes the cash harder to retrieve quickly.

iPhone Protection
The Danny P. case also provided dependable protection for my iPhone 6s Plus, even if it is overall somewhat rudimentary in execution. The sleeve housing the iPhone is expectedly tight to keep things secure, so don't expect to fit the iPhone inside with a case on (I tried with Apple's Leather Case and couldn't make it past the camera).
As a result, the Leather Wallet Case provides no protection once you take the iPhone out of the sleeve, a feature I didn't particularly love when checking my iPhone while out of the house. But as a simple sleeve, the biggest deal breaker for some might be the lack of immediate access to the iPhone's screen while still inside the wallet.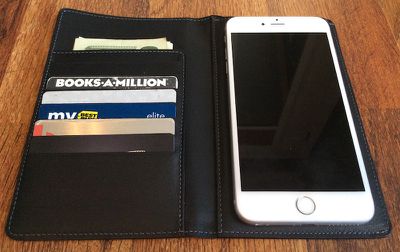 Admittedly, this would be the the main reason for me ultimately switching back to a separate wallet and phone case solution as well, although anyone with an Apple Watch should have much of that required screen-checking alleviated. I tested notifications without my Apple Watch on and found the case does little to stifle the iPhone's normal alert volume, but the same somewhat burdensome process of removing your iPhone just to see who is calling or texting still applies.
In terms of being a music companion, the design of the case allows access to the iPhone's headphone jack, but anyone who prefers quick access to music controls outside of the inline music remote on Apple's EarPods or other headphones will probably be more frustrated than not while using the Leather Wallet Case.

Apple Pay
Apple Pay worked essentially just as Danny P. promised it would on its site. With the Touch ID button exposed at the top of the Leather Wallet Case, all users have to do is double tap the home button with their Touch ID-approved finger and tap the case to an NFC terminal.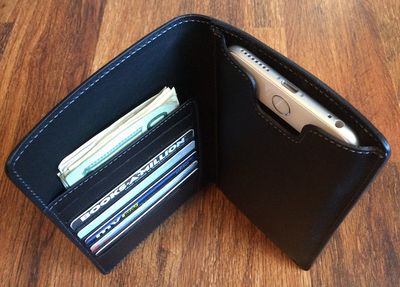 I tested the case out at my local GameStop, and only ran into one issue: the first time I didn't double tap the Home button fast enough to bring up Apple Pay, and my iPhone unlocked. I had to take the iPhone out of the case, lock it, then put it back in for a second try, but when I was finally quick enough, Apple Pay registered my iPhone through Danny P.'s case like a charm. Without quick access to the screen and lock buttons, Touch ID's blazing fast response on the iPhone 6s Plus is the Leather Wallet Case's only potential hurdle to surpass in regards to Apple Pay.

Bottom Line
The three colors available for Danny P.'s Leather Wallet with iPhone 6 Plus Case -- Brown, Brown/Blue, and Black -- should provide enough of an aesthetic variety for anyone interested in the accessory. And since it's a product that is far more publicly present than traditional wallets given its size, the smooth edges and fine leather finish easily make the case a universally sleek daily companion.
The caveat of course is that it still won't win over anyone who simply doesn't have the pocket or bag space for its size, which was built to accommodate the 5.5-inch screen of the iPhone 6 Plus and 6s Plus. It might be a niche market, but if you have a large-screened iPhone, are looking for a quality wallet case, and use a bag or jacket with sizable pockets on a daily basis, Danny P.'s accessory should be high on your purchase list.
Pros
Stylish design

High-quality leather

Minimal construction helps reduce bulk

Easily accessible credit/debit card slots

Apple Pay support

Secure iPhone sleeve
Cons
Sleeve prevents immediate access to iPhone screen

Fold for cash can result in disorganized spills

Opens bare iPhone to potential vulnerability when taken out of sleeve

Pricey
How to Buy
Danny P.'s Leather Wallet with iPhone 6 Plus Case can be purchased from both the company's official website and on Apple's online storefront for $129.95. Currently, users can only purchase the Black color option on Danny P.'s site, and the Brown version on Apple.com, while the color-blocked Blue/Brown version is available on both websites. Those interested in Danny P.'s style but without an iPhone 6/6s Plus should check out similar cases for the iPhone 6/6s, iPhone 5/5s, and a few MacBook Air and iPad sleeves sold by the company.
Danny P. provided a Leather Wallet Case to MacRumors free of charge for the purposes of this review. No other compensation was received.