Casetify, a company that makes customizable iPhone, iPad, and MacBook cases, has also begun selling Apple Watch bands, which can be printed with any design. Available for both the 38 and 42mm Apple Watches and in two finishes, bands can be customized with photographs or artwork or ordered from Casetify's pre-designed artist collection.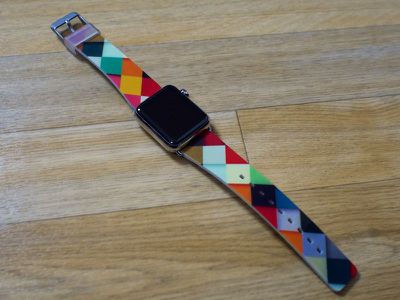 Fit
Casetify's Apple Watch bands are made from polycarbonate and are closest in nature to the Apple Watch Sport bands. I've been wearing a 38mm Casetify Apple Watch band for just over a week and while it is comfortable, the material of the band is not as soft, flexible, or as thin as the fluoroelastomer the Apple Watch Sport bands are constructed from.


Bands come in two sizes, one for each watch. The 38mm band fits wrists sized 140 to 200mm, while the 42mm band fits wrists sized 150 to 210mm. The underside of each band is ridged, with the Casetify logo printed on each side.


At about an eighth of an inch thick, Casetify's bands seem to be approximately a third thicker than the Apple Watch Sport (there's maybe about a millimeter of difference between the two). That's not a huge thickness disparity, but it is noticeable when wearing the Casetify band after wearing a Sport band, especially on a small wrist.




My wrist is under 5.5 inches in circumference so the Casetify looks and feels a bit bulky on my arm, but this may be less of an issue for people with bigger wrists. Part of the reason for the bulk is that I need to wear the band on its second to last loop, so there's a lot of extra band at the underside of my wrist.


It's definitely thicker and less flexible than the Apple Watch sport band, but the Casetify band has still been comfortable to wear all day long, even during exercise and when it gets wet. The band has a lot of holes to adjust the fit, so it's going to fit well on a lot of different wrist sizes.


Most Apple Watch bands are relatively easy to put on one-handed, this band from Casetify is not. It's a standard buckle watch, so it takes some maneuvering to get it on your wrist with one hand.

Hardware
The Casetify bands attach to the Apple Watch using stainless steel adapters, in either a matte silver or a matte black finish, and each watch has a matching stainless steel buckle.


Bands attach much like any other Apple Watch band, sliding into the groove on the side of the Apple Watch until it snaps in place. The Casetify bands don't slide in and out of the Apple Watch as smoothly or as easily as Apple's own bands, but they do lock into place in the same way.


One of the bands that I received from Casetify was assembled backwards, causing it to not slide in properly or lock, so that's something to watch out for if you order one of these. Fixing it would require unscrewing the adapter and turning the band around.
I have a stainless steel Apple Watch and the matte silver of the adapter does not match the shiny finish of the Apple Watch, but when wearing the watch, the difference in finish isn't overly noticeable from a distance. If someone's close to your wrist, though, the difference is easy to see.


The matte silver also does not quite match the aluminum of the Apple Watch Sport, and the mismatching finishes is definitely going to be a deal breaker for some people when it comes to the Casetify bands. The incongruity between the band adapter and the Apple Watch is what bothered me most about the Casetify band, but no one seemed to notice but me.


Casetify provided me with a band that has matte black adapters, but I didn't have access to a Space Black or Space Gray Apple Watch to make a fair comparison on color. I did notice a tiny bit of chipping on the matte black Casetify adapter after I put it on my Apple Watch, so I am concerned that people who buy the matte black version might have similar problems with it. Casetify says that the chipping I saw is uncommon.

Printed Designs
Customizability is the key feature in Casetify's Apple Watch bands, and designing a band that precisely fits your style and specifications is the main reason to purchase one of these bands. Casetify sells pre-designed Apple Watch bands in a range of colors and patterns, but you're also able to create your own using any image.


You can upload an image or connect to Facebook or Instagram to use a photo from one of those services. Bands designs can use one, two, or five photos, and built-in tools on the site and in the app let you resize and move photos as necessary to create a desired design.


Design wise, the possibilities are nearly endless. You can create a band with photos of kids, pets, or favorite cartoon characters, or use a more abstract design or photo. Things like flowers and sunsets turn out particularly well. A high resolution image is necessary for the best print quality, especially when using only a single image.
It's also worth taking a look through Casetify's artist's gallery for designs that have been created by others. There are a lot of whimsical, colorful designs that are fun to browse through.
Print quality on the Casetify bands is good, but it's not something that I'd describe as crisp. Up close, designs look a bit fuzzy due to the pixelated printing process, as you can see in the photo below.


At a reasonable distance, Casetify's band designs look quite nice, but I wouldn't choose a photo that has a lot of very fine detail for the printing process. Printing only covers the front of the band. The sides of the band are a light gray color, as is the back of the band.


So far, the design on my band has held up well over a week of heavy use and through attempts to damage the printing through scrubbing, twisting, bending, and rubbing. I have not been able to test the band over a long period of time, but the printing seems reasonably durable, as does the band -- it can stand up to a lot of abuse since it's made of polycarbonate.

Bottom Line
Casetify's bands are more expensive than the Apple Watch Sport band and have some caveats like their thickness and adapters that don't quite match the Apple Watch, but they're also the only Apple Watch band that's customizable, and that makes up for a lot of minor flaws.
If you want a band that's more colorful and has more personality than what you can get from Apple, or if you want to wear a band that's outfitted with pictures of your cat, Casetify's Apple Watch bands are the way to go. $70 is a lot to shell out for a band that's not quite as high-quality as the Apple Watch Sport band, but the tradeoff for customizability is worth it for Apple Watch owners who want something that stands out.


One thing to keep in mind - there aren't many third-party Apple Watch bands on the market yet, and that's because Apple hasn't solidified its "Made for Apple Watch" program. Apple has published guidelines on band and adapters (lugs) for third-party accessory designers, but it's not yet approving accessories. Casetify's bands, like all current third-party bands are not "Made for Apple Watch" approved.
In the coming months, we may see a lot more band options hitting the market. For the time being, third-party bands are few and far between, so it's nice to have options like Casetify that let the Apple Watch be better customized to fit different styles and tastes.
Pros:
Comfortable to wear
Customizable -- endless designs
Waterproof/sweatproof
Fits a wide range of wrist sizes
Cons:
Thicker, less flexible than Apple Watch Sport band
Adapter's matte silver doesn't quite match Apple Watch finish
Matte black version coating chips easily
Printed designs aren't crisp
How to Buy
Casetify's Apple Watch bands can be ordered from the Casetify website or the Casetify iOS app for $70.