If you've followed all of my Thunderbolt 3 dock reviews over the past year, you know that in general these docks carry a lot of the same features in slightly different combinations. But usually, there's at least one fairly important feature that's missing in each model, whether it be enough USB ports, an SD card reader, or enough power output to fully support a 15-inch MacBook Pro. Price tags pushing to $300 and beyond are also an issue for many potential customers.
So if any of those concerns resonate with you, you're going to want to read on to learn more about CalDigit's upcoming model, the Thunderbolt Station 3 Plus.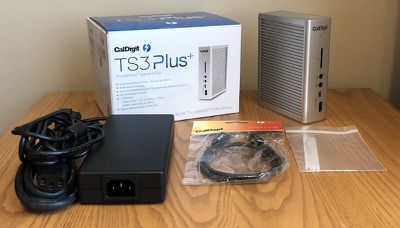 The TS3 Plus takes the original TS3 dock that I reviewed last May and addresses nearly every concern I had with it and even lowers the price during the promotional pre-order period to $250 with a 0.5-meter Thunderbolt 3 cable included. Packages with a 1.0-meter or 2.0-meter cable are also available for $270 and $280 respectively.

Design
The general design here is nearly identical to that of the earlier TS3 and even the Thunderbolt 2-based TS2 dock that preceded it. While most Thunderbolt docks have horizontal designs, CalDigit has generally opted for a boxier design that can sit either horizontally or vertically on a desk. Oriented vertically, the TS3 Plus stands just over 5 inches tall, a little under 4 inches deep, and just over an inch and a half wide, and weighs a hint over a pound. That makes it almost exactly the same size as and quite a bit lighter than the TS3.
If that's too tall for your desktop, just slide on the included pair of rubber strips for cushioning and tip the dock over on its side, and it'll fit just about anywhere. The aluminum casing has a ribbed design that gives it a bit of an industrial look while also offering some extra surface area for heat dissipation.


CalDigit touts a total of 15 ports on the TS3 Plus, with the front of the dock housing one USB-A port, one USB-C port, separate analog audio in and out ports, and even an SD card slot. A small blue LED lights up to let you know the dock is powered up and has a connection to the host computer.


Turn the TS3 Plus around and you'll find a host of other ports, including four more USB-A ports, another USB-C port, two Thunderbolt 3 ports, a DisplayPort 1.2 port, a Gigabit Ethernet port, an S/PDIF digital optical audio port, and the DC-in connection from the power supply.

USB Ports
If you did the math in the previous section, you've realized that the TS3 Plus has a total of seven USB ports. The previous TS3 had just three, while about the most I've seen in other competing docks is five. The inclusion of five USB-A and two USB-C ports and their distribution between front and back of the dock give you some great flexibility in what you can connect to this dock. The USB-C port on the rear is even a 10 Gbps USB 3.1 Gen 2 standard, the first time I've seen that in a dock I've reviewed. The remainder of the USB ports are 5 Gbps USB 3.1 Gen 1, which is the speed typically seen on these docks.
In my testing with a 10 Gbps USB 3.1 Gen 2 CalDigit Tuff external SSD and Blackmagic's speed testing software, I saw read and write speeds come in around 350 MB/s and 315 MB/s respectively through all of the 5 Mbps USB ports, both Type-A and the front Type-C style. Those are very typical speeds for these types of docks.

CalDigit Tuff connected to 5 Gbps USB-A port
Where the TS3 Plus has a leg up on the competition in the speed department is the extra Type-C 10 Gbps USB 3.1 Gen 2 port on the rear of the dock. Connecting the CalDigit Tuff to that port yielded a 45–50 percent increase in transfer speeds, coming in at around 500 MB/s read and 475 MB/s write.

CalDigit Tuff connected to rear 10 Gbps USB-C port
Other docks can match that performance if you use the downstream Thunderbolt 3 port, but then you have to sacrifice connecting a Thunderbolt 3 or USB-C display to that port. With the TS3 Plus, you can have both, and transfer speeds over the 10 Gbps USB-C port aren't impacted by also having a 5K display connected to the Thunderbolt 3 port, as there is enough bandwidth over Thunderbolt 3 to support both without compromise.
SD Card Reader
An SD card slot is another one of those features that a lot of people like to see on these docks, eliminating the need for a separate reader to plug into one of the dock's USB ports. For a long time, OWC was about the only major company to offer an SD card reader on a Thunderbolt 3 dock, but Promise Technology joined the club a few months ago with its TD-300 that I just reviewed last week.
CalDigit is now joining the club by offering an SD card reader in the TS3 Plus, and it even supports the SD 4.0 spec over a UHS-II bus interface for the faster speeds with compatible SD cards. Theoretical transfer speeds of 312 MB/s are three times that of the UHS-I bus with SD 3.0 used on other docks. The reader supports standard SD, SDHC, and SDXC cards.

Displays
As with other docks of this type, the TS3 Plus includes a pair of Thunderbolt 3 ports, one for connecting to the host computer and one for connecting other peripherals such as a Thunderbolt 3 or USB-C display. The dock can support a single 5K external display at 60 Hz over Thunderbolt 3, or a pair of 4K displays using the Thunderbolt 3 port and the DisplayPort 1.2 port. Various adapters sold separately allow the Thunderbolt 3 and DisplayPort connectors to be used with various types of displays including HDMI and DVI.
The TS3 Plus and other CalDigit Thunderbolt 3 docks support a variety of combinations of displays up to 4K from the two ports, and I experienced no issues testing with several LG 4K displays. A single LG UltraFine 5K display connected via Thunderbolt 3 also worked fine, maintaining a 60 Hz refresh rate.
It's worth noting that the two USB-C ports on the TS3 Plus, including the 10 Gbps one on the rear, are data-only, so they can not be used for connecting additional USB-C displays.

Charging
While many other Thunderbolt 3 docks offer up to 60 watts of upstream charging for a host computer, the TS3 Plus offers a full 85 watts of charging power to support even the 15-inch MacBook Pro. If you're running your 15-inch MacBook Pro under very heavy loads or you want to ensure the fastest recharge of a depleted battery, 85-watt support is a feature you definitely want to look for in a dock. Unlike some other docks, the TS3 Plus can also support charging of PCs over Thunderbolt 3.
The higher 85-watt charging power of the TS3 Plus drives up the size of the external brick, which is quite large, but many users will have the ability to hide it away behind other items on their desks or even off their desks entirely.
Nearly all of the USB ports also support pass-through charging, allowing connected devices like iPhones, iPads, and Apple Watches to charge even when the dock doesn't have an active connection to a host computer.
The TS3 Plus will also support CalDigit's downloadable drivers and software utility to boost USB power output to 1 A for slightly faster iOS device charging and to support Apple's external USB SuperDrive. The software utility is a menu bar item that makes it easy to eject all peripherals connected to the dock with a single click.

Wrap-up
Of all the Thunderbolt 3 docks I've tested so far, CalDigit's TS3 Plus is my new favorite. It has all of the features I'm looking for in a dock, including a plethora of USB ports with both Type-A and Type-C options and even a 10 Gbps Type-C port. It also has an SD card reader, 85-watt charging, and a compact footprint in either vertical or horizontal orientation. And to top it all off, it's currently priced at just $250 during pre-orders, below the $300–$350 pricing seen on most other feature-rich docks. Pricing for the TS3 Plus will rise to $350 once the pre-order promotion ends.
The TS3 Plus does away with the pair of eSATA ports found on the original TS3, but with eSATA usage dwindling, I find it a very worthwhile tradeoff to instead make room for many more USB ports, optical audio, and an SD card reader.
The TS3 Plus begins shipping on February 20, but CalDigit will be offering pre-orders through its own site with a temporary $100 discount off the regular price. For pre-orders, the TS3 Plus with 0.5-meter Thunderbolt 3 cable is priced at $249.99, while versions with 1-meter ($269.99) and 2-meter ($279.99) cables will also be available.
B&H Photo will be CalDigit's exclusive retail launch partner for the TS3 Plus, and is offering the same pre-order discounted pricing of $249.99 with 0.5-meter cable, $269.99 with 1-meter cable, and $279.99 with 2-meter cable.
In addition to the new TS3 Plus temporarily starting at $249.99, CalDigit is also dropping the price of its TS3 to $199.99, down from $299.99. CalDigit claims this makes the TS3 the first Thunderbolt 3 dock with 85-watt charging priced under $200, so be sure to check out our earlier review of the regular TS3.
Update: This review has been revised to remove a section addressing active vs. passive cabling. As a Thunderbolt 3 accessory, the TS3 Plus will offer maximum performance regardless of whether a passive 0.5-meter cable or an active 1-meter or 2-meter cable is used.
Note: CalDigit provided the TS3 Plus to MacRumors free of charge for the purposes of this review. No other compensation was received. MacRumors is an affiliate partner with B&H Photo and may earn commissions on purchases made through links in this article.