Apple's native Clock app in iOS has a hidden feature that allows you to go to bed at night with audio playing on your iPhone and it will automatically stop playing after a set time – ideally, after you've fallen asleep.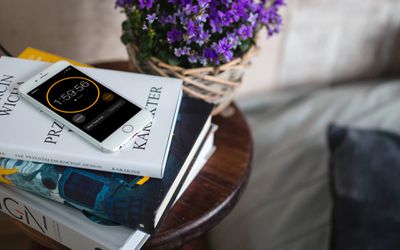 It's really handy if you don't want your ‌‌iPhone‌‌ playing through that audiobook, ambient playlist or podcast series when you're not awake to enjoy it. It can also help save your battery, and potentially your data allowance if you're streaming music or radio over cellular. Here's how it works.

Launch the Control Center on your ‌iPhone‌ – on ‌iPhone‌ 8 or earlier, swipe up from the bottom of the screen; on ‌iPhone‌ X or later, swipe down from the upper right "ear" of the screen.
Tap the Timer button.
Using the dials, select a time that you want your audio to play for.
Tap When Timer Ends.


Scroll down to the bottom and select Stop Playing.
Tap Set in the top-right corner of the screen.
Tap Start to start your timer.
You can now turn off the screen on your ‌iPhone‌ and tuck into bed. If the timer ends and you haven't fallen asleep yet, just resume whatever audio was playing and restart the timer.