HomePod has built-in Siri functionality, which means it can be used to do a lot of the same things that can be done with an iPhone or an iPod, like setting an alarm or a timer.
If your HomePod is in the kitchen, setting a timer while cooking can be useful, and it's as simple as using a single Siri command.
All you need to say is "Hey Siri, set a timer for [x amount of time]."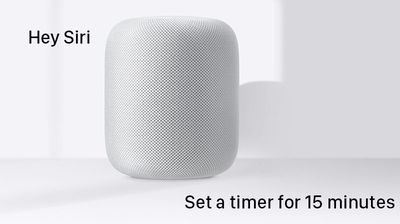 You can set a timer for a select number of minutes or hours, with a maximum timer limit of 24 hours. If you ask Siri to set a timer for longer than 24 hours, Siri will suggest you use a Reminder instead.
If you need to know how much time is remaining on the timer, you can ask Siri a question like "Hey Siri, how much time is left on the timer?" and Siri will give you a time update.
When the time is up, the HomePod will play a sound. To stop the timer sound, you can either tap the top of the HomePod or ask Siri to stop it.

Turning Off the Timer
At any point while the timer is running, you can ask Siri to turn it off with a command like "Hey Siri, turn off the timer" or "Hey Siri, pause the timer."
You can also change the timer countdown with a command like "Hey Siri, change the timer to 10 minutes."

Timer Limitations
Unfortunately, you can only set one timer at a time. If you attempt to set a second timer while the first timer you set is still running, Siri will say "A timer is already running at [x minutes]. Would you like to replace it?"
There's also no way to view or manage your HomePod timers on an iOS device like there is with alarms -- timers on HomePod all handled via voice with Siri.