iOS 11 introduces design changes and new features, but it also includes several under-the-hood optimizations that are designed to free up space on your device. Some of those features, like new HEVC and HEIF formats for smaller video and photo file sizes, are implemented automatically when you upgrade, while others can be manually enabled when you're low on space.
The new iOS update is designed to make suggestions on how you can save space, and you can find these suggestions in the Settings app.
Toggling on Space Saving Suggestions


Open the Settings app.


Scroll down and tap on "General."


Choose "iPhone Storage."


Tap "Enable" on any of the suggestions Apple provides to turn them on.


Offload Unused Apps
One of Apple's suggestions is to automatically delete unused apps when the storage space on your device is low, and this is a feature new to iOS 11. If you enable this feature, Apple will delete apps you don't use often, while saving the documents and data so you can download them again and pick right back up where you were if necessary.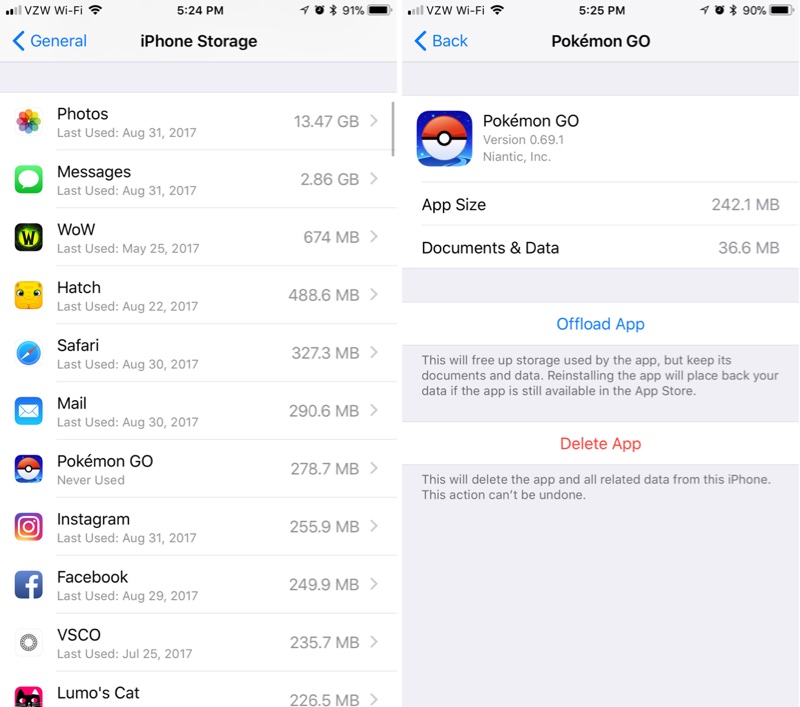 You can also offload individual apps by selecting them from the list of apps located just below all of Apple's suggestions.
Auto Delete Old Conversations
With "Auto Delete Old Conversations" enabled, Apple will automatically delete all messages and attachments that were sent over a year ago. This can save significant space, but be aware that once gone, there's no getting those messages back.
Review Large Attachments
The "Review Large Attachments" feature lets you see a list of the largest files on your device, located in Photos, Mail, and Messages. A tap will let you view a file up close, and a swipe to the left on an item in the file list will bring up an option to delete it. You can mass delete files by tapping on the "Edit" button in the upper right corner of the device.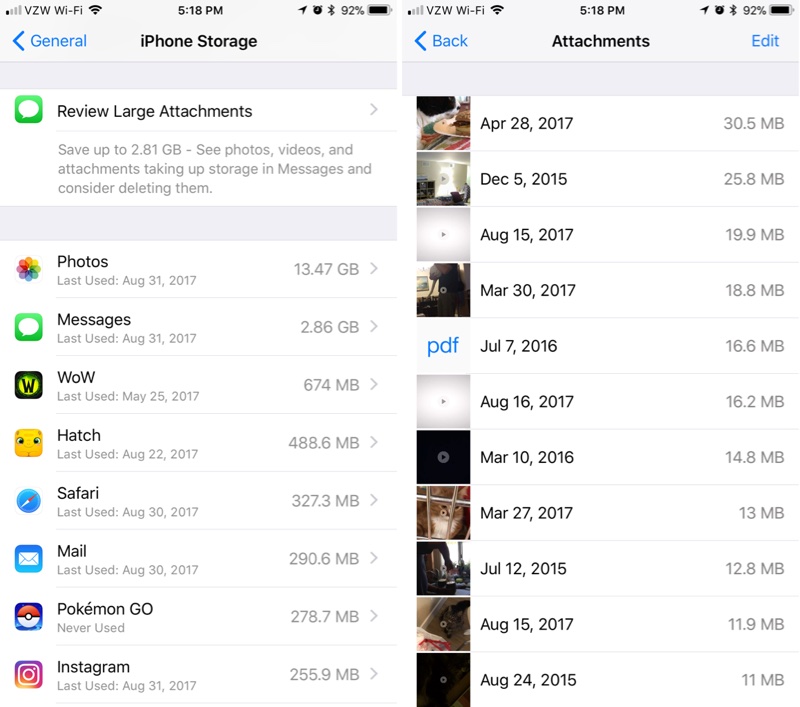 Along with these three options for storing space, the Storage section of the Settings app also displays all of the apps you have installed, with the app using the most storage space at the top. It also lets you know how long ago the app was last used, making it easy to cull items that aren't used often.
Depending on what's installed on your device, you may or may not see all of these storage options, but if you're getting low on space, they should appear.