In macOS Mojave and later, the Finder includes Quick Actions that make it easier to perform quick edits to files without having to open the apps associated with them.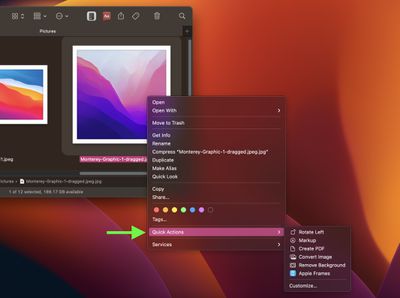 In the default set that Apple includes with every macOS install, there's a very handy Quick Action that allows you to remove the background from a selected image or photo.
The feature lifts the subject out of the picture and turns it into a PNG file, which makes the background transparent. The Quick Action works best on images with a clearly defined subject in the foreground, like a person or object, set against a fairly uniform background.
To use the Remove Background feature in macOS, simply right-click an image file in Finder, hover your cursor over the Quick Actions submenu, then click Remove Background.
Wait for the image to be processed (you may see a progress bar appear if the image is particularly complex), and you should soon see a transparent PNG version of the file appear in the same location as the original image, titled "[original filename] Background Removed.png."


Aside from the default Quick Actions that Apple includes in macOS, Apple encourages third-party developers to add support for Quick Actions in their apps. You can also create your own custom ones using the Automator app.