Apple includes an App Library feature in iOS and iPadOS that shows you all of the apps that are installed on your iPhone or iPad in one place, both in an icon view organized into smart categories and in an alphabetical list. Since all of the apps are listed in the App Library, app icons and Home Screen pages can be hidden for a cleaner look.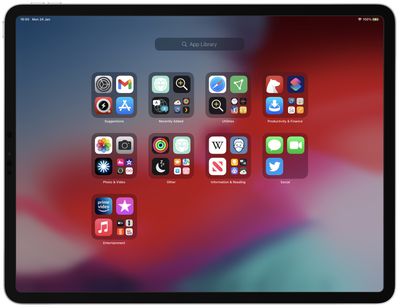 On ‌iPad‌, Apple adds an App Library icon to the dock that displays the last four hidden apps you used, and tapping on the icon opens the App Library. The idea is to give you quick access to the feature, but if you don't use it that often, it just ends up taking up dock space. Fortunately, you can remove it very easily by following the steps below.
Launch the Settings app.
Scroll down the left-side menu and tap Home Screen & Dock.
Under the "Dock" section, toggle off the switch next to Show App Library in Dock.

That's all there is to it. If you decide you want the App Library back in the dock, simply repeat the above steps and toggle the setting back on.
Even with the App Library removed from the dock, you can still access it. Just swipe leftwards on your ‌iPad‌'s Home screen and keep swiping to the last page of apps, then swipe once more and the App Library will automatically open. To exit, simply swipe in the opposite direction.