For some time now, it's been possible to ping your misplaced iPhone with your Apple Watch. Beginning in iOS 17, currently in beta, you can now do the reverse and ping your Apple Watch with your iPhone if you forgot where you put it down.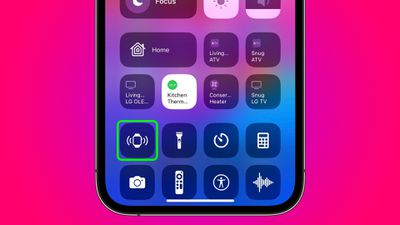 Finding your Apple Watch with your iPhone can be achieved thanks to a new "Ping My Watch" button for Control Center. Tapping the button makes your watch emit an audible tone so you can more easily locate it.
The new feature only works if your iPhone and Apple Watch are in Bluetooth range or connected to the same Wi-Fi network. If you think your watch may be further away, try the Find My app instead.
Apple doesn't include the new Ping My Watch button in the default Control Center set, but you can add it manually by following these simple steps.
Open the Settings app on your iPhone.
Tap Control Center.
Under "More Controls," tap the + button next to Ping My Watch.
Now, swipe down diagonally from the top-right corner of the screen (or swipe up from the bottom on a device with a Home button) to open Control Center.
Tap the Ping My Watch button to make your watch audibly beep.

Note that the feature works if your watch is locked and/or charging, and even if your watch is on your wrist.
You can install the iOS 17 Public Beta now or wait for the official stable release which is expected to land in the fall.