In iOS 13 and later, Apple's stock Reminders app includes a feature that enables you to be reminded you about something when you're messaging someone specific in the Messages app.
This feature is particularly handy if you need to remember to do something for a friend or family member, like send them a birthday card, or pay them back some money using Apple Cash, let's say.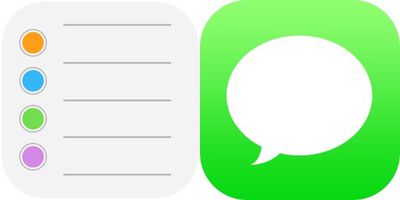 Here's how to create a messages-based reminder in the Reminders app on iPhone and iPad. Note: The person you're messaging has to be in your contacts for the feature to work.
Adding a reminder to a list can be done by tapping into a list and then tapping on the the New Reminder plus button. If you don't have a list, tap into the Today, Scheduled, All, or Flagged categories at the top of the app and then choose New Reminder at the bottom of the screen.


Once you've given your reminder a name, tap the info ("i") button next to it to open the Details screen, then tap the switch next to Remind me when messaging to toggle it to the green ON position.


Tap Person under that, then select the person from your contacts whom you'll be messaging. When you've done that, tap Done in the top-right corner of the Details screen and your reminder is ready. The reminder notification will now appear at the top of the screen the next time you chat with the person in the Messages app.