In Apple's stock Camera app in iOS 14, iPhone and iPad users can change video resolution and frame rate on the fly, without having to go into the Settings app, which was previously the case on some ‌iPhone‌ and ‌iPad‌ models.
Next time you shoot video using the Video mode found in the menu strip below the viewfinder, notice the video resolution and frame rate separated by a dot in the top-corner of the screen.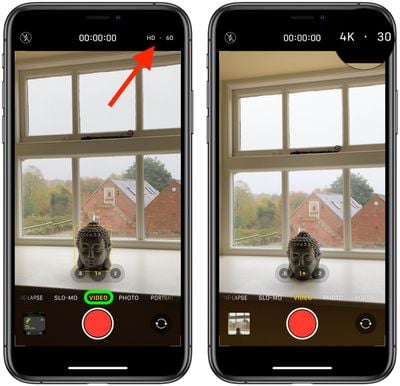 If video quality is set to 1080p in Settings -> Camera, you can tap the resolution in the Camera interface to flip between HD (1080p) and 4K. If it's set to 720p in Settings, tapping the format flips between 720p and 4K.
When shooting in 4K, you can tap the frame rate to switch between 24 (for low light), 30, and 60fps. If you shoot in HD (1080p) format, you can flip between 30 and 60fps, and when shooting in 720p, the frame rate is limited to 30fps.
The ability to change video mode like this was previously only available on the ‌‌iPhone‌ 11‌ and 11 Pro, but with ‌iOS 14‌ Apple has expanded it to all iPhones.