In iOS 13, Apple's stock Reminders app can be used to create a reminder for just about anything. You can add notes and websites to provide a reminder for more context, and you can even prioritize your reminders to see at a glance how important they are relative to each other. Keep reading to learn how.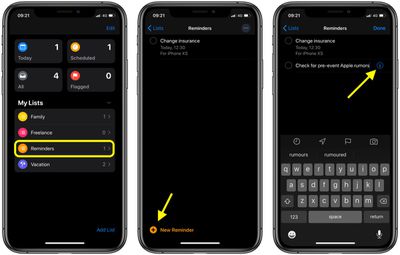 Adding a reminder to a list can be done by tapping into a list and then tapping New Reminder, or by tapping into the Today, Scheduled, All, or Flagged categories at the top of the app and then choosing New Reminder or tapping the plus button.
Once you've given your reminder a name, tap the info ("i") button next to it to open the Details screen. Further down the screen you'll find the Priority option – tap it, then select Low, Medium, or High, depending on the reminder's importance. Tap back to the details screen and then select Done to confirm.


Note that flagging a reminder makes it appear in the default Flagged list and helps to highlight it in your own custom list, but making a reminder a priority adds exclamation marks to it and re-locates it higher up the list based on its priority level.