In iOS 13, Apple's stock Reminders app can be used to create a reminder for just about anything. You can add notes to provide a reminder with more context, and if your reminder is related to something you need to do online you can even attach a website link to it for convenience.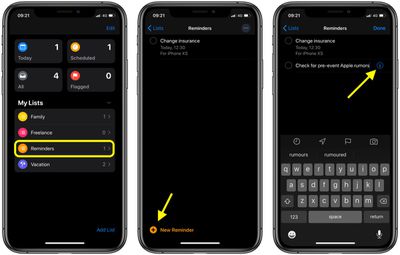 Adding a reminder to a list can be done by tapping into a list and then tapping on the New Reminder plus button, or by tapping into the Today, Scheduled, or Flagged categories at the top of the app and then choosing New Reminder.
Once you've given your reminder a name, tap the info ("i") button next to it to open the Details screen. Immediately below the name of your new reminder you'll see Notes and URL fields that you can fill in, either by typing or pasting text copied from elsewhere.


When you've filled in the info and selected any other options on the Details screen, tap Done. Note that the Reminders app helpfully displays a small preview image in the list of the URL you added.

Create a Website-Related Reminder From Safari
If you come across a website while browsing that you'd like to create a reminder for, you can do that too. Simply tap the Share button at the bottom of Safari's interface, then tap the Reminders icon in the Share Sheet.


Give your reminder a name and add any notes for it in the second field. You can access the Details screen at the bottom to select additional options. Tap Done when you've finished to generate the reminder and return to Safari.