To play music from third-party music services like Spotify to your HomePod, you don't need an iOS device -- a Mac will work too. You can send any audio playing on your Mac right to your HomePod, and not just audio from iTunes.
To AirPlay from Mac to HomePod, your Mac and your HomePod need to be on the same Wi-Fi network.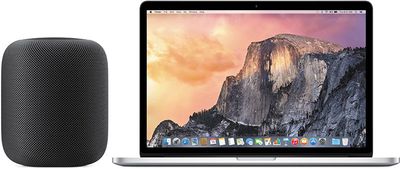 Make Sure Volume is Enabled in Menu Bar
It's easiest to AirPlay sound to the HomePod from a Mac using the menu bar on your Mac, but to do that, you need to make sure your audio settings are readily accessible. By default, audio settings aren't available on the menu bar, so you'll need to fix that.
Open up System Preferences.
Choose Sound.
Select the "Output" tab.
Check the "Show volume in menu bar" box.
While it's easiest to use the menu bar, you can actually AirPlay to the HomePod using the Sound section of System Preferences. To do so, double click on the HomePod, which should be named after the room that it's in.

Selecting HomePod as an Audio Output Device from the Menu Bar
Once sound controls are accessible from the menu bar, it's simple to route the sound from your Mac to the HomePod.
Click on the volume button in the menu bar.
Under the "Output Device" list, choose the HomePod, which is labeled as the room that it's in. Mine is Office 2, because I have two AirPlay devices in my office.
With the HomePod selected as the audio output device, all audio from your Mac will be sent to the HomePod. You can't pick and choose -- every sound from your Mac will be played on the HomePod instead of on your Mac's speakers.
When using the HomePod this way, as an external speaker for the Mac, there's no option to use Siri to do things like skip songs. tYou'll need to control playback on your Mac, but you can use the physical controls on the HomePod to adjust volume.

AirPlaying from iTunes
For the most part, you need to use the audio output settings to AirPlay music from a third-party service to the Mac, but if you're playing content from iTunes, you can use the built-in iTunes AirPlay controls.
Open iTunes.
Play a song from Apple Music or your music library.
In iTunes, click on the icon.
Select the HomePod icon.
Because you can play Apple Music and iCloud Music Library content directly on the HomePod, there's probably not much need to AirPlay from iTunes to the HomePod, but the option is there if you need it.