Philips Hue Lights to Get New Brightness Balancer Feature and Additional Automation Controls
Lighting company Signify has announced a new feature coming to the Philips Hue app that aims to give users better control over brightness in their home, as well as a Hue bridge automation update that brings more nuance to motion sensor triggers.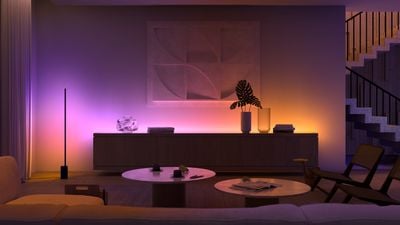 Philips Hue lights will soon include a brightness balancer that lets users customize the relative brightness of individual lights in an Entertainment area, instead of controlling the lights as a group.
Signify says the new feature was developed following requests from Philips Hue's users who wanted to more control over their lights while watching a movie, listening to music or gaming.
Using the brightness balancer, users can "make lights that have higher lumens dim lower than lights with lower lumens," according to Signify, allowing users to choose what is in the spotlight when syncing lights to movies, games, or music.
In addition, a forthcoming update to the Philips Hue bridge will allow users to have more control over lighting automation triggered by motion sensors.
Currently, Philips Hue motion sensors support two time slots for automating lighting conditions – daytime and night – so users can for example set up a bright light to come on in the daytime and a low-level light at night.
With the upcoming Hue bridge update, users will be able to customize lighting conditions using a total of 10 time slots, allowing for various settings throughout the day. The Natural light scene can also be selected as part one of these time slots, to mimic the sun throughout the day.
Signify says both the brightness balancer feature for the Hue app and the Hue bridge automation enhancements are scheduled to launch later this summer.