AirCard Combines Find My Support With a Digital Business Card and More
Tech accessory company Rolling Square is winding down a successful Kickstarter campaign for AirCard, an innovative Find My-enabled digital business card, with over $700,000 raised so far. Similar to a few other Find My trackers like the Eufy SmartTrack Card, Rolling Square's AirCard is a thin card-sized device intended to be carried in a wallet that can leverage Apple's ‌Find My‌ network of hundreds of millions of devices to help you keep track of your wallet.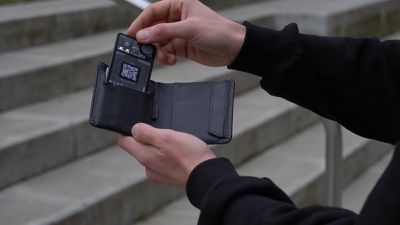 In addition to location tracking, AirCard supports other ‌Find My‌ features like left behind reminders and a 105 dB speaker that helps you narrow down its location once you're relatively close, although the Precision Finding feature of AirTags is not available to AirCard and other third-party ‌Find My‌ trackers.
An advanced lost mode for AirCard can also help reunite you with your wallet even if ‌Find My‌ fails, with a QR code on the AirCard enabling anyone who finds your wallet to scan the card to obtain your contact information.


Beyond the ‌Find My‌ features, AirCard can also serve as a digital business card via both NFC and QR code, allowing you to quickly and easily share your contact information with others, and at just 2.2 mm thick (about the thickness of 1.6 typical credit cards), it won't add much bulk to your wallet.
The main body of the card is made of CNC-machined aluminum with a panel of high-resistance tempered glass to allow for the best possible transmission of Bluetooth signals. The AirCard itself can also be used as an RFID blocker, so if you place it on the outermost side of your wallet it can help protect your other cards from being skimmed.
When it comes to battery life, Rolling Square says AirCard will last up to 30 months, but it can't be recharged. Once the battery in your card dies, Rolling Square will send you a coupon code for 50% off a new card. You can then either return the spent AirCard to Rolling Square for component reuse or keep it to continue using its digital business card and QR-code scan-to-find capabilities that don't require battery power.


The Kickstarter campaign for AirCard ends in just over a week, with shipments expected to begin in August. Early bird pricing for a single AirCard is available starting at €27 or around $30 in the U.S. plus shipping, with various multipacks available at decreasing per-unit prices.
While crowdfunded campaigns can carry some risk of commitments not being met, Rolling Square has run over a dozen campaigns via Kickstarter and Indiegogo that appear to have largely met expectations with perhaps some minor delays in shipping schedules.
Note: MacRumors is an affiliate partner with Kickstarter and Rolling Square. When you click a link and make a purchase, we may receive a small payment, which helps us keep the site running.