Samsung Launches Updated iMac-Like Smart Monitor M8 and 49-Inch Odyssey OLED G9 Curved Gaming Monitor
Samsung today launched a new pair of monitors, including the latest version of the iMac-like Smart Monitor M8. The monitor is priced at $699.99 for the 32-inch option and $649.99 for a new 27-inch option, although as of now Samsung is only taking orders on the former size.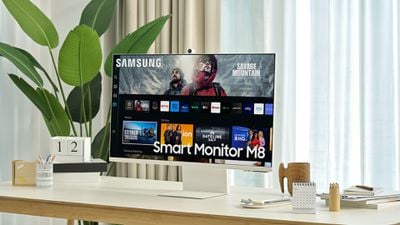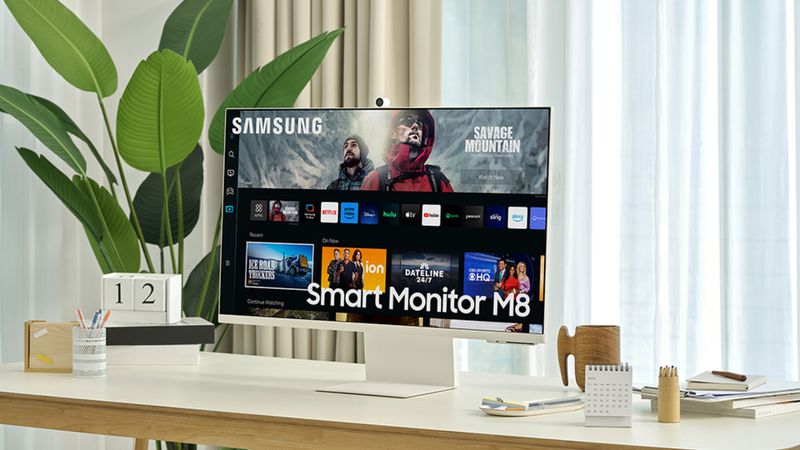 New additions to the Smart Monitor M8 include HDR10+ support and portrait orientation. The monitor includes a 4K UHD flat LCD panel with 400 nits of brightness, a 60Hz refresh rate, and a new pivot stand so that you can turn the display 90 degrees for portrait orientation.
In terms of Apple-related features, the Smart Monitor M8 retains the previous generation's AirPlay support so that you can connect Apple devices to the monitor and view content on the display. There's also USB-C charging connectivity, an upgraded 2K SlimFit webcam, smart TV apps, a gaming hub, and more.
Both sizes have a 11.39mm thick chassis, which is 0.1mm thinner than Apple's iMac, and include a flat back, thin bezels, and a height and tilt adjustable stand. You can get the new 32-inch Smart Monitor M8 in white, blue, pink, or green from Samsung's website for $699.99 right now.


If you want to save a bit of money and don't need any of the upgrades to the new Smart Monitor M8, Samsung does still have the previous version at a discount. You can get this model of the Smart Monitor M8 for $449.99, down from $699.99, which remains the best price of the year so far on this device.
The other monitor that Samsung launched today is the 49-inch Odyssey OLED G9 Curved Smart Gaming Monitor. It's available for pre-order right now at a discounted price of $2,199.99, down from $2,499.00. The monitor is expected to ship by the end of the month, around June 26.


The 49-inch monitor is aimed at enhancing gaming sessions with an OLED screen that features Samsung's Neo Quantum Processor Pro to provide whiter whites and deeper blacks. The display also curves around the user's field of view and features a 240Hz refresh rate, with easy access to numerous streaming services via the Gaming Hub.
You can pre-order the 49-inch Odyssey OLED G9 Curved Smart Gaming Monitor today for $2,199.99 on Samsung's website. Anyone who opts to pre-order the monitor in this early order window will also get a $250 Samsung gift card for a limited time.
Note: MacRumors is an affiliate partner with Samsung. When you click a link and make a purchase, we may receive a small payment, which helps us keep the site running.