iOS 17 Locks Your Safari Private Browsing Behind Face ID
Apple is enhancing the security of Safari in iOS 17, and private browsing now requires Face ID authentication or a passcode to access. If you open up a private browsing window in Safari, you will need to authenticate with ‌Face ID‌.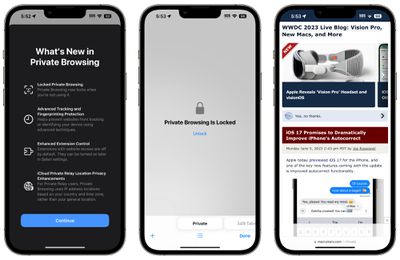 That means someone who has access to your unlocked phone and opens your Safari browser won't be able to get to your private browsing history without secondary authentication. ‌Face ID‌ or a passcode can be used to access the Safari private tabs.
Private browsing also completely blocks known trackers from loading on pages and removes tracking added to URLs as you browse, improving privacy. Websites are prevented from tracking or identifying your device with these new additions, plus Apple also offers improved extension control.
In private mode, extensions with website access are turned off, and you will need to manually re-enable them. iCloud Private Relay also uses IP address locations based on country and time zone rather than a general location.
Safari in ‌iOS 17‌ is also gaining a Profiles feature so you can keep your personal browsing and work browsing separate, with different histories, Tab Groups, cookies, and favorites.