Apple Releases New 70W Power Adapter Alongside 15-Inch MacBook Air
Apple today began selling a new 70W power adapter with a single USB-C port on its online store. Priced at $59, Apple recommends pairing the power adapter with the new 15-inch MacBook Air and various other MacBook Air and MacBook Pro models.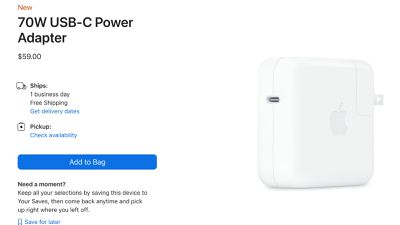 From the product listing:
The 70W USB-C Power Adapter offers fast, efficient charging at home, in the office or on the go. It's compatible with numerous USB-C devices and charging cables. Apple recommends pairing this power adapter with a 13-inch or 15-inch MacBook Air with M2 chip, a 13-inch MacBook Pro (2016 and later) or a 14-inch MacBook Pro. Use it with MacBook Air with M2 chip models to take advantage of fast charging, so you can go from 0 to 50 percent charge in around 30 minutes.
Apple has stopped selling its previous 67W power adapter, although it is still listed as included with the 14-inch MacBook Pro for now.