Apple's First-Ever Store Moving to New Location: 'A New Chapter is Coming Soon'
Apple's first-ever store at Tysons Corner Center will soon be relocating within the shopping mall, according to Michael Steeber's weekly Tabletops newsletter. The mall is located in Tysons, Virginia, a Washington, D.C. suburb.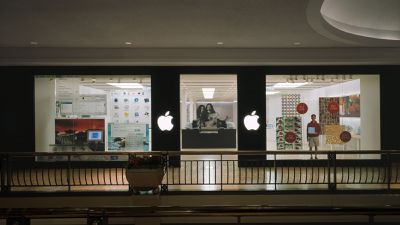 Apple Tysons Corner in 2001
Steeber said the following message was posted on a temporary wall at a new location in the mall:
The first-ever Apple Store opened 22 years ago here at Tysons Corner. Soon we look forward to welcoming you to this newly reimagined space. Thank you for being part of our story. Here's to the next chapter.
Apple has yet to announce a grand opening date for the new location, and the current store remains open for now. On the store's page, Apple teases that "a new chapter is coming soon," without providing any further details. The mall's website says Apple's new store will be located on the upper level between Nespresso and Victoria's Secret.
In what has become an iconic video, Steve Jobs conducted a tour of Apple Tysons Corner, unveiling the Genius Bar and more. The store opened to the public on May 19, 2001, just a few hours before Apple Glendale Galleria opened its doors in Glendale, California. The two locations welcomed over 7,700 people and sold a combined total of $599,000 of merchandise through the first weekend of operations, according to Apple.
Steeber said the new store's opening will be significant:
It goes without saying that this opening will be significant because it's the first time the first Apple Store has ever moved. But this opening will be much more than that — trust me. Tysons Corner is where it all began.
The existing storefront had already received a facelift in the 2000s, losing its iconic black facade with two backlit Apple logos on each side of the entrance.
The first-ever @Apple store opened 22 years ago here at Tysons Corner Center! Apple now begins their next chapter with us, with a newly-reimagined space coming soon. We feel proud to be a part of their story. pic.twitter.com/hiwiWBM1vs — Tysons Corner Center (@ShopTysons) April 30, 2023
Apple now operates 525 stores around the world.