YouTube Music Gains Audio Podcasts on iOS and Web
Google today announced that YouTube Music on the web and the YouTube Music app for iOS devices now offer podcasts in the United States. Users who watch podcasts through the main YouTube app can now continue listening to them through YouTube Music.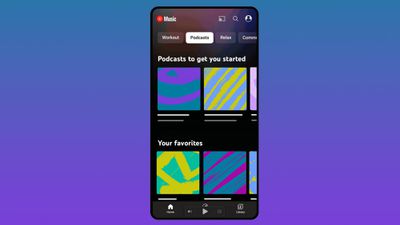 Podcasts on YouTube Music are free, with no Premium subscription required. Podcasts are available on-demand, offline, and can be listened to in the background and while casting, with options to swap between audio and video versions.
Google says that the podcast listening experience on YouTube Music is designed to complement the video podcast experience that's available on YouTube. Podcasts will be available through the Home tab by tapping on the Podcasts section at the top of the screen.
There is an Explore feature for finding popular podcasts based on categories that include gaming, music, true crime, comedy, health and fitness, business, and society and culture, plus a search tab for locating specific content.
Podcasts in YouTube Music are rolling out to U.S. users starting today, but Google says support is being implemented "gradually" so it may take a few days for the podcasts to show up in the YouTube Music app and on the web. While podcasts are limited to the United States at the current time, Google has plans to bring access to other regions in the future.