WhatsApp Users Can Now Save Disappearing Messages If the Sender Consents
WhatsApp has announced a new option for disappearing messages conversations that lets recipients keep individual messages if the sender approves the request.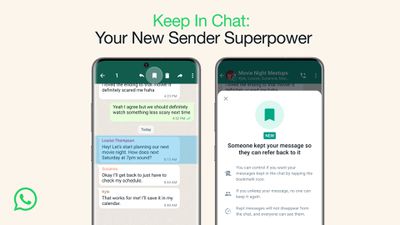 "Keep in Chat" enables users to long press a disappearing message and ask to keep it, which sends a notification to the sender: "Someone kept your message so they can refer back to it." The sender can then either allow the save to go ahead or veto the request.
From WhatsApp's blog post:

Today we're introducing "Keep in Chat," so you can hang on to texts you need for later, with a special superpower for the sender. We believe if you've sent the message, it's your choice whether others in the chat can keep it for later.
WhatsApp says that if a user decides their message can't be kept by others, their decision is final – no one else can keep it and the message will be deleted when the timer expires.
If a recipient asks to save a disappearing message and the sender allows it, the message gets a bookmark icon to indicate that it can be found in the user's kept messages folder, which is organized by chat.
WhatsApp says the feature is rolling out globally in the next few weeks.