WhatsApp Gains New Group Features for Admins and Members
WhatsApp parent company Meta has announced two new updates related to WhatsApp groups, including a new privacy control tool for admins and a way for users to find out which groups they have in common.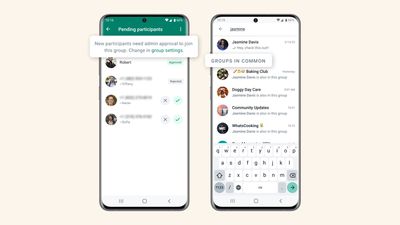 For group admins, WhatsApp now includes a Pending participants tool that gives them the ability to decide who can join the group.
When an admin chooses to share their group's invite link or make their group joinable in a community, they'll now have more control over who can join, says WhatsApp.
It's also now possible for a user to find out which groups they have in common with someone else. This can be done by simply searching a contact's name, where they will be able to see the contact's group memberships.
The new group features are rolling out over the coming weeks on iOS and Android.
Looking ahead, WhatsApp has been testing a new feature that will allow group chat memberships on the encrypted platform to expire after a set period of time, although it's not clear when it will be ready to go live.