Disastrous Update That Nerfed AirPods Max Noise Cancellation Still Hasn't Been Fixed
After receiving a controversial update last year that allegedly reduced the strength of the AirPods Max's Active Noise Cancellation (ANC), users continue to complain that Apple has not restored its original capabilities.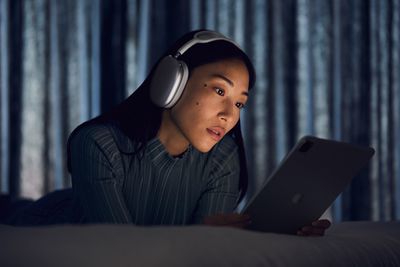 Following firmware update "4E71" released in May last year, many users noticed that their ‌AirPods Max‌'s ANC seemed to be decidedly less effective at blocking out external noise when Noise Cancellation Mode was enabled. Tests performed by RTings.com confirmed that the ‌AirPods Max‌'s ANC "blocks out a bit less noise between the mid-bass to high-bass range" after the 4E71 firmware update. "When it comes to the mid and treble ranges, this firmware update has slightly changed the level of isolation, but it's a relatively minor difference," the test concluded. Other sites went on to highlight the noticeable difference, with particular focus on the problem around September 2022.
Some users speculated that the reduced functionality is the result of a patent dispute. While some users have noticed a marginal improvement in the strength of the ‌AirPods Max‌'s ANC following a further firmware update late last year, there continues to be a general consensus online that the ‌AirPods Max‌'s ANC is still not as effective as it was prior to the the 4E71 firmware update.