Uber Rolling Out CarPlay Support for Driver App
Uber is adding CarPlay support to its Driver app, allowing the iPhone app to be accessed from a vehicle's dashboard display, according to TechCrunch. The report says CarPlay integration should be available to all Uber drivers in the U.S. by the end of the month.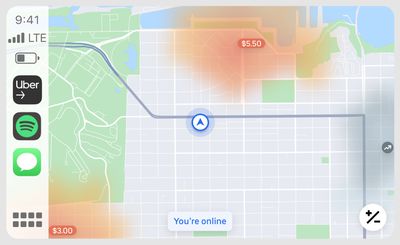 Image Credit: Uber via TechCrunch
As on the iPhone, the CarPlay version of the app allows Uber drivers to view a map with surge pricing areas, navigate with turn-by-turn directions, view and accept trips, add rides to their queue, view if their status is set to online or offline, and more.
Uber competitor Lyft also offers CarPlay support for its Driver app.