Apple Announces Oceanic+ App Now Available for Apple Watch Ultra
Apple today announced that the Oceanic+ app is available for the Apple Watch Ultra starting today. Designed by Huish Outdoors in collaboration with Apple, the app serves as a dive computer for recreational scuba diving at depths up to 40 meters/130 feet.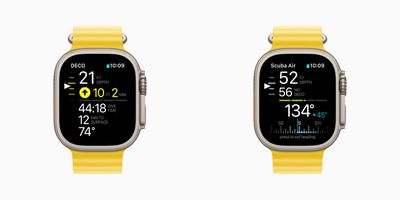 Apple already offers a basic Depth app on the Apple Watch Ultra for viewing your current depth, maximum depth reached, water temperature, and duration under water. For scuba divers looking for more advanced data, the Oceanic+ app is a useful tool.
Oceanic+ indicates a diver's current depth, dive time, no-decompression time, water temperature, time to surface, maximum depth, ascent speed, battery level, gas mix selected (air or Nitrox mix up to 40%), and more. The app also has color-coded safety warnings for no-decompression limit, excessive ascent rates, and safety stop guidance.
Other features of the app include haptic feedback and watch face complications for no-fly time, surface time, quick access to the dive planner, dive settings, current elevation, maximum elevation allowed, and a quick access button back into the app.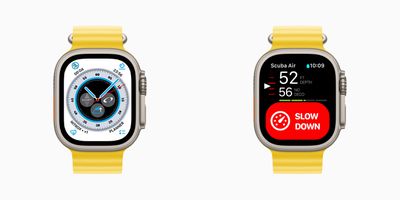 The app is available on the App Store and requires an Apple Watch Ultra running watchOS 9.1 or later paired with an iPhone 8 or later running iOS 16.1 or later. The app's basic plan is free and includes many common dive functions, including depth, time, and a log of most recent dives. For $9.99 per month or $79.99 per year, users get access to decompression tracking, tissue loading, unlimited logbook capacity, and more.
After a dive, data such as GPS entry and exit locations is shown on the watch, along with a summary of the user's dive profile. A companion Oceanic+ app for the iPhone provides more detailed post-dive summaries, tides over the next three days, and more.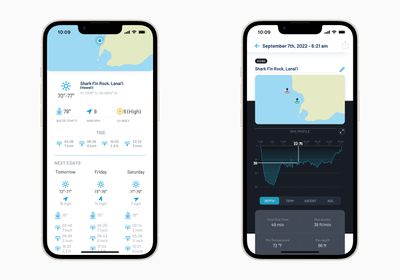 Apple says to always follow diving protocols, dive with a companion, and have a secondary device.