Apple Removes SIM Card Tray on All iPhone 14 Models in U.S.
Apple today announced that all iPhone 14 models sold in the U.S. do not have a built-in SIM card tray and instead rely entirely on eSIM technology.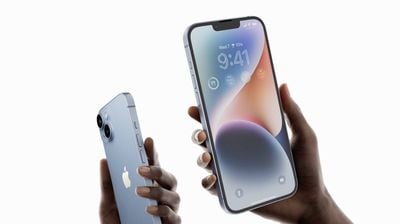 Tech specs on Apple's website confirm the iPhone 14, iPhone 14 Plus, iPhone 14 Pro, and iPhone 14 Pro Max are not compatible with physical SIM cards and instead have dual eSIM support, allowing for multiple cellular plans to be activated on a single device.
An eSIM is a digital SIM that allows users to activate a cellular plan without having to use a physical nano-SIM card. eSIM availability is rapidly expanding, but the technology is still not available in all countries, which explains why iPhone 14 models will remain available with a SIM card tray outside of the U.S. for now.
Apple's website has a list of carriers that support eSIM technology around the world. In the U.S., this includes AT&T, T-Mobile, US Cellular, Verizon, Xfinity Mobile, Boost Mobile, H2O Wireless, Straight Talk, C Spire, and some others.
The new iPhone 14 lineup consists of the 6.1-inch iPhone 14, 6.7-inch iPhone 14 Plus, 6.1-inch iPhone 14 Pro, and 6.7-inch iPhone 14 Pro Max, with all four devices available to pre-order this Friday, September 9 ahead of a September 16 launch. For more details about the devices, be sure to check out our announcement coverage.