Apple's Design Chief Jony Ive to Speak in Dublin With Stephen Fry This June
Apple's chief designer Jony Ive is set to speak at the Dalkey Book Festival in Dublin, Ireland on Saturday, June 15 at 6:00 p.m.
Ive will be joined by actor and comedian Stephen Fry for a session titled "The Object of Language and the Language of Objects."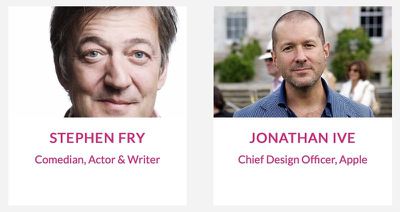 Actor, comedian, raconteur, and author, Stephen Fry shares his wit and wisdom with Jony Ive, the man who, by designing three of the most iconic products of our age - the iPod, iPad, and iPhone- has changed your world probably more than any other single living human being.

Truly a one-off event featuring treasured polymath, Stephen Fry, and Apple design guru, Jony Ive. Two global superstars mark the tenth anniversary of the festival by sharing one stage at Dalkey!
Tickets were available for the event from the Dalkey Book Festival website for 30 euros, but have all sold out at this time.
Stephen Fry and Jony Ive know one another, and in 2015, Fry wrote a profile on Ive following the announcement of his chief design officer title. In the past, Fry has also profiled Steve Jobs, and he's long been acquainted with Apple executives.