Apple CEO Tim Cook Discusses Tech Regulation, Privacy, Education, Health, and More at TIME 100 Summit
Apple CEO Tim Cook sat down with former TIME managing editor Nancy Gibbs at the first-ever TIME 100 Summit in New York City today to discuss the need for regulation in the tech industry, privacy, education, health, and more.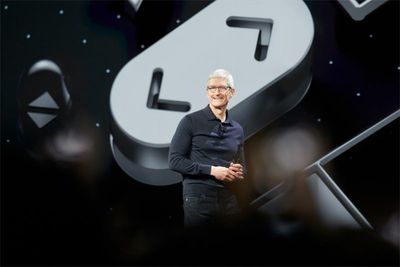 We've paraphrased some of Cook's comments from the interview:
Cook on Apple's values:
It's been an interesting time period to be a CEO. I've always deeply felt that people should have values. A corporation is nothing more than a collection of people, so by extension a corporation should have values. It's not unique to Apple. We've always had a unique set of values important to us. Part of that is how we treat the environment. Advocating for high-quality education. Privacy. I tend to think as I look at the world today, the issues that we face cannot be addressed solely by government. We cannot be looking to the government to solve all the problems. I think it takes the public sector, the private sector, and academia working together to solve these problems. Climate change is not going to be solved by government -- as just one example. We've readily stepped up and participated in the conversations because we think how we do is important as what we do.
And:
I would hope that every CEO stands up and represents its employees. This will upset some people. I try not to get wrapped up in a pretzel about who we upset. … In the end, we'll be judged for "did we stand up for what we believe in?" I think people still appreciate that, even when they disagree. We've taken some unpopular opinions, I recognize that, but we do so believing deeply that they are right. We do not focus on politics. Unfortunately, everything tends to break down that way, but we tend to focus on the policy. … Apple doesn't have a PAC (Political Action Committee). Apple's probably the only large company that doesn't have a PAC. … The company donates zero to political candidates.
Cook on the need for regulation in the tech industry:
Technology needs to be regulated. There are now too many examples where the no rails have resulted in a great damage to society. When things are out in society and they don't represent the true cost, then you need to do something about it. … You have to regulate it. I've been on the regulation kick, which surprised even me, for a while, because I didn't see companies laying the basic rails in place, and then refusing to step over those.
And:
I think this is an example where Europe is more likely to come up with something. GDPR isn't ideal, but GDPR was a step in the right direction, on the privacy side obviously. There are plenty of things it doesn't do that it needs to do. Moving the ball forward starts in Europe, and may eventually come to the US. I think in some cases, and I think I am part of this problem, in the US we typically either… business thinks all regulation is bad regulation. Therefore, there is lots of gravity around not doing something. I think that's a very difficult tide to work through. We are advocating very strongly for regulation because I do not see another path at this point.
Cook on privacy:
Privacy is much more meaningful to mainstream Americans now … people that I would talk to, if they were in the military, they really got it, because they fought for our civil liberties, and they knew how important those civil liberties to were Americans… in mainstream America, people didn't really grasp it… now much more meaningful… when it begins to affect our democracy, it means even more, and you get a more visceral response. I still think that all of us, including Apple, need to talk about what it means to the user, what it means to the citizen. Why it's important. Why the folks who wrote our Constitution thought it was important. What it means to expression. In a world where everything is totally open, people begin to guard what they will say. Think about where society will go if we are afraid to share our opinions — if we fear we are being listened to, surveilled, monitored. … However, I'm still worried that some of the tools such as encryption… could the government force Apple to create a tool that puts hundreds of millions of people at risk to get into a phone… I wish that case would have gone to court to be honest, it was dropped the day before, now that the Inspector General's report has come out, our worst fears have been confirmed, it was a very rigged case. … This was not the government's finest hour. … I hope we've advanced much further than that. It hasn't reoccured. It's occurred in no other country in the world … I do think for the everyday American, privacy is materially more important sitting here in 2019…
Cook on his relations with U.S. President Donald Trump:
I would never share my talks with the President. The things I'm passionate about as the leader of Apple is getting DACA fixed, getting the immigration system fixed for America, fixing these green card backlogs … Trade is very important — it's good for America, we need to figure out that it's good for everyone…
Cook on education:
When your founder doesn't have [a degree], it kind of says a lot about what people can do without college education. … Pushing for every kid to learn coding. I think every kid in the world should learn to code. I think it's the most important second language to know. … Basic creativity skills are not taught in a lot of schools, so we've created our own Everyone Can Create curriculum and made it available to schools…
Cook on Apple's push into health:
We began to recognize it was important to monitor your body on a real-time basis, versus just going to the doctor once per year and having vital signs checked. … Last year, as you know, we launched the Series 4 that has an ECG in it. This is a huge thing. … Some people only have one of these in their lives. … Now you can monitor ECG on your wrist. I'm getting tons of notes from people around the world… "I would have died or had a serious issue if I didn't know this." This is what the people are telling me. I think it's a big idea to monitor your body… As we pull this string more, and recognize things we can uniquely do… as long as you have the technology and privacy, which is even more important in the health arena, if you're really solid in these things, we think you can increase the learning cycles and make significant contributions to healthcare over time. We're at the early stages of this with the Watch, and obviously we're working on a bunch more things. I do think there will be a day we look back and say Apple's greatest contribution to mankind has been in healthcare. I think that will happen.
Cook on Screen Time:
Apple has never wanted to maximize user time. We're not motivated by this by a business point of view, and certainly not by a values point of view. We want to enable things for your life, empower you to have experiences you couldn't have. It is clear there are certain apps that people can get in the mindset of just scrolling through mindlessly and continually picking up their phones to see what is happening right at this second. So, we looked at this, and we said, number one, people should know what they are doing. There is a human trait in all of us to underestimate the degree of something bad we are doing. If you ask someone how many calories they had yesterday, I bet you they will tell you they had less than they actually had. So we're telling people how much time they are spending in apps, here's how many notifications you got. If you have an iPhone, I would encourage you to do this. I've gone in and gutted the number of notifications I receive… do I really need to get thousands of notifications per day? … If you're looking at your phone more than you're looking into someone's eyes, you're doing the wrong thing. This thing will improve through time just like everything else we do. We'll innovate there just like we do in other areas. Basically, we don't want people using their phones all the time. This has never been an objective for us.
A live stream replay is available on YouTube: