Apple's 1993 W.A.L.T. Combined Telephone and Fax Machine Prototype Seen in Action in New Video
At Macworld Boston in 1993, Apple introduced a prototype device called the Wizzy Active Lifestyle Telephone, or the W.A.L.T., the company's first desktop telephone and, like the Newton, a precursor to the iPhone.
Little is known about the W.A.L.T., and while it's been seen in images, there's never been a video of it in action, until today. Sonny Dickson this morning shared a video that shows the W.A.L.T. being used, and it's a fascinating look at early Apple technology.
Unsurprisingly, the W.A.L.T. takes a while to start up given its age, but it's functional, running Mac System 6. The W.A.L.T. featured a touchscreen, fax functionality, on-display caller ID, a built-in address book, customizable ringtones, and online banking access.
As shown in the video, it had a series of hardware buttons for activating various functions, and it worked with a connected stylus that could be used for navigation and writing. There's a ton of lag when using the stylus, though, so writing doesn't look great.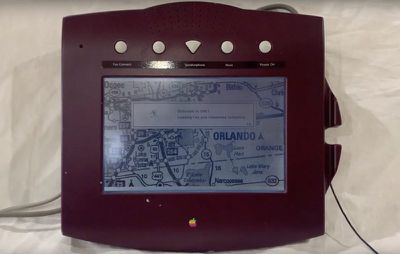 The video walks through many of the available operating system options, from a user identification card to fax settings, which included options for customizing notifications, creating greetings, and more.
W.A.L.T., which was designed with telephone company BellSouth, was made from PowerBook 100 parts, and according to Dickson, prototypes came with an "unusual" manual that included basic instructions like "Do not use WALT near water" and "Do not drop WALT."


Apple shelved W.A.L.T. and ultimately did not release the device, but the remaining prototypes provide an interesting look back at Apple's development efforts more than 25 years ago.
Dickson also has a selection of photos showing the hardware inside of the W.A.L.T., which are well worth checking out if you're interested in classic Apple hardware.