T-Mobile has inked a deal with Viacom that will bring the latter company's stable of TV channels to T-Mobile's upcoming over-the-top streaming service (via TechCrunch). Viacom owns a large variety of popular channels, including Comedy Central, BET, MTV, VH1, Nickelodeon, CMT, and Paramount Network.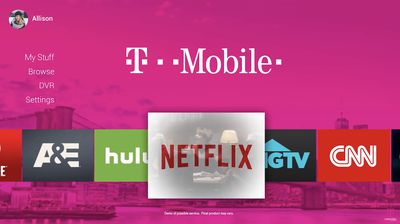 An early mock-up of the T-Mobile live TV streaming service
Under the agreement, T-Mobile will be able to offer live feeds of these channels to its subscribers, as well as on-demand viewing for certain channels. Viacom has deals with a few other live TV streaming services, including DirecTV Now, Philo, and
coming soon
FuboTV. Viacom also
purchased
the streaming TV service PlutoTV earlier this year.
This makes Viacom a "cornerstone launch partner" for the upcoming T-Mobile streaming service, according to the company and CEO John Legere.

"Viacom represents the best of the best, most-popular brands on cable, so they are an amazing partner for us," said John Legere, CEO of T-Mobile, in a statement.

"TV programming has never been better, but consumers are fed up with rising costs, hidden fees, lousy customer service, non-stop BS. And Macgyvering together a bunch of subscriptions, apps and dongles isn't much better. That's why T-Mobile is on a mission to give consumers a better way to watch what they want, when they want."
T-Mobile first announced its OTT TV service in December 2017, at the time stating that the plan was to launch in 2018 and create a product that would be a "disruptive" solution to rival services. Not much was heard about the service throughout 2018, and then in December the company confirmed that it would delay the service until 2019 because "the project proved much more complex than expected."
There are still very few details about the service, including a specific launch date or the price of its subscription packages. During the original announcement, T-Mobile said that its service will offer solutions to issues like increasing monthly bill costs, confusing bundles, and outdated user interfaces, which are seen on many current live TV streaming platforms.
When it launches, T-Mobile's service will enter a busy streaming TV market, which currently includes DirecTV Now, Hulu with Live TV, PlayStation Vue, Sling TV, YouTube TV, and many more. Companies are even beginning to offer internet streaming bundles that focus on catering to specific audiences, like Philo, which is aimed at viewers not interested in sports channels and offers much cheaper monthly costs.
The price of these services has also begun to go up over the past few months, most notably with DirecTV Now raising the prices of every plan by $10 and making the cheapest entry level plan $50/month (which was $35/month just one year ago). Likewise, FuboTV raised prices last month and hiked its entry level plan to $54.99/month, one of the most expensive entry prices among the major live TV streaming services.