Samsung Developing Additional Folding Smartphones, May Offer Free Display Replacements for Alleged Crease Defect in Current Model
Samsung is working on two additional folding smartphone models to succeed the Galaxy Fold that's coming out this April, reports Bloomberg.
The new folding smartphones include a clamshell-like device that folds from top to bottom and another that folds outwards like Huawei's Mate X, another high-end folding smartphone coming this year.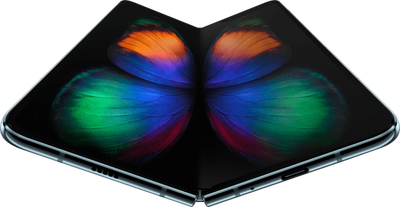 Samsung's current Galaxy Fold, which will be priced at $1,980 when it launches, folds inwards rather than outwards, much like a book.
Samsung is experimenting with multiple folding designs to figure out what kind of fold works best with a smartphone/tablet hybrid.
"No one knows what the ideal design is yet," said Bryan Ma, vice president of devices research at IDC. "The time is ripe for experimentation. Many of these designs won't be successful, but industry players will learn valuable lessons along the way."
Samsung's vertically folding smartphone is set to be released in late 2019 or early 2020, with the company currently working on mockups to finalize the device's design. Right now, the smartphone has an extra screen on the outside, but it may be removed.
Samsung already has a prototype of a smartphone that folds outward like the Huawei Mate X and this device will come out last. It will be thinner than the other two because there is no extra screen.
According to Bloomberg, future foldable devices may incorporate the in-display ultrasonic fingerprint sensor that Samsung has built into the Galaxy S10. Reviews have been mixed on the sensor, with some reviewers suggesting it is sluggish and not always accurate.
Samsung is also hoping to make the Galaxy Fold more durable, eliminating a crease that appears on the current panel once it's been folded approximately 10,000 times. To combat this issue, Samsung is considering offering Galaxy Fold buyers free screen replacements after the smartphone launches. From Bloomberg:
The Galaxy Fold's screen imperfection develops on a protective film covering the touch sensor bonded with the display underneath, the person said. That's one reason why Samsung kept the phone inside a glass case at MWC in Barcelona last month, the person said. Samsung's spokeswoman said the Galaxy Fold was displayed that way because it wanted more attention on the soon-to-be-launched Galaxy S10, not because there was a problem with the quality of the foldable device.
Right now, folding smartphone technology is imperfect and expensive, and it is not clear if foldable tablet/smartphone hybrids are a fad or something that will catch on and dictate the future of the smartphone industry.
There are no rumors suggesting that Apple has plans to release a foldable smartphone in the near future, but Apple is undoubtedly looking into foldable devices given that its major competitors are coming out with folding smartphones. In the past, Apple has patented some foldable display technology, and just recently, a rumor suggested Samsung has provided folding display samples to Apple.