Popular photo editing and art creation software Pixelmator Pro received a major update today, adding a number of new and improved features.
Pixelmator Pro 1.3 "Prism" introduces layer color tags, layer filtering and search, support for clipping masks, and quick opacity and blending controls located in the Layers side bar.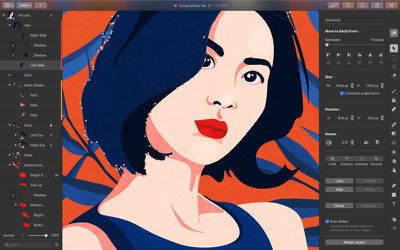 With the color tags feature, Pixelmator Pro users can better organize their layers, while the filtering features make it possible to filter out layers based on layer type or color tag.
Finding objects is easy in layer-heavy creations with the new search feature, and with clipping masks, you can clip the contents of one layer to the outline of another. Clipping masks are designed to let digital artists create better masks with the existing objects in a design.
Clipping masks can be created from any layer, including text, images, layer groups, and nested shapes. The update also includes additional bug fixes and improvements, such as better support for exporting Photoshop documents and an improved nondestructive editing workflow.
Pixelmator Pro can be downloaded from the Mac App Store for $39.99. The update is free for existing users. [Direct Link]