Another Possible Triple-Lens Camera Design in 2019 iPhone Shown Off in Renderings
Multiple rumors have suggested at least one of the 2019 iPhone models will feature a triple-lens camera design, but smartphone leaker Steve Hemmerstoffer (aka OnLeaks) believes Apple is still finalizing just what the triple-lens design will look like.
Earlier this month, Hemmerstoffer shared one possible prototype design featuring a square-shaped camera layout, and today, he's teamed up with Indian site CompareRaja to show us another design that Apple is allegedly working on.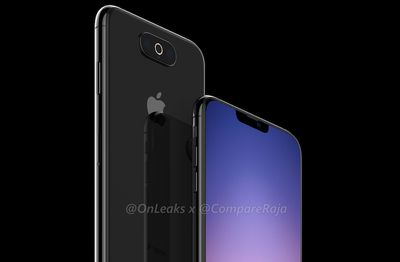 The new renders feature an iPhone with a slimmed down notch for the front-facing camera and TrueDepth system, along with a triple-lens rear camera positioned in the center of the device.
The camera features three lenses in a horizontal arrangement, with a flash located around the middle of the three lenses. A microphone is located below, while the volume buttons are on the left side of the device and the power button is on the right, in line with current devices.


According to Hemmerstoffer and CompareRaja, this set of renderings, along with the previous set that featured a larger square-shaped camera layout are both "100% legit prototypes."
The three iPhones planned for 2019 are "still in the EVT stage," aka the Engineering Validation Test, with Apple allegedly having yet to decide on a design. The site suggests either both leaked prototypes will be used and marketed as different models, or one of the leaked prototypes will be axed.


Current rumors sourced from The Wall Street Journal suggest only one iPhone will feature a triple-lens camera setup - the next-generation iPhone XS Max. The next-generation iPhone XS and the next-generation iPhone XR will continue to use dual-lens cameras, with Apple reserving the triple-lens setup for its highest-end device.
It's not clear if these renderings are accurate depictions of the iPhone design Apple might use in 2019, nor do we know if Apple is still attempting to decide on a final look, but Hemmerstoffer has a track record of sourcing accurate information from Apple's supply chain.
At this point in time, no other source has commented on the triple-lens camera layout Apple might use, so we'll need to wait for further leaks to get a clearer picture of how Apple plans to implement a three-lens design.