Unreleased iPad Mini With Redesigned Cellular Antenna Appears in Photos
Photos of an unreleased iPad mini with hardware different than that of any previous generation of the tablet were shared on Twitter today by a person using the pseudonym Mr. White. The same user has shared many photos of what appear to be early prototypes of Apple products along with components in recent months.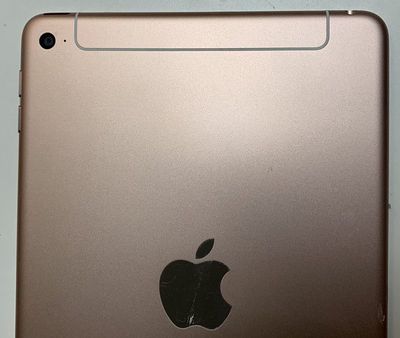 The photos, spotted by 9to5Mac, depict a rose gold iPad mini with an antenna band that forms the shape of a rounded rectangle. The current iPad mini 4 has a similar antenna design, but the rounded rectangle is filled in with plastic to ensure proper transmission of signals from the wireless chip inside.
Apple later improved its antenna design and only required a narrow band for cellular connectivity on 2017 iPad Pro models. This suggests the iPad mini in the photos could be a new model in development.
Beyond that, the iPad mini in the photos looks identical to the iPad mini 4, with a headphone jack, side volume controls, Lightning connector, two speakers along the bottom, and so forth. The tablet also lacks a LED flash next to the rear camera, consistent with every previous iPad mini generation.


Last month, an alleged case for the so-called iPad mini 5 surfaced with a vertical cutout for the rear camera, suggesting the new model might have a rear camera, LED flash, and center microphone cutout. The case also had cutouts for four speakers, however, a feature that feels too premium for the lower-priced iPad mini. In other words, the case might not necessarily be for a future iPad mini.
Back in October, Apple analyst Ming-Chi Kuo said Apple plans to launch a new iPad mini, and the China Times reported that the tablet will launch in the first half of 2019. If true, the new model will likely be a modest upgrade to the iPad mini 4, perhaps with a faster processor and a few other minor improvements.
The iPad mini 4 was released in September 2015 and remains available for purchase for $399 and up in the United States.
The anonymous Mr. White shared photos of an alleged iPad mini 5 logic board a few months ago along with a diagnostics report indicating that the tablet will have a TSMC-manufactured Apple A9 chip used in iPhone 6s models. The iPad mini 4 is powered by the Apple A8 chip found in the iPhone 6 and iPhone 6 Plus.
All this said, the iPad mini shown in photos today could be an older prototype that may or may not ever be released. Apple prototypes all sorts of different devices and configurations internally that don't always see the light of day.
If a new iPad mini is on the horizon, though, March has been a common release month for iPads in recent years.